An Exclusive Offer for Wyatt Investment Research Members Only
Seize the profit opportunity of the year alongside New York Times Bestselling Author and fund manager Marin Katusa:
Why "Forever Royalties" Will
Be My Single Biggest
Investment EVER
You could make as much as 2,000% capital gains—and receive 
regular royalty checks in your mailbox—from a disruptive new 
$80 billion natural resource industry development… as long as  
you get in before this offer expires…
Dear Reader,
The royalty business is one of the absolute best ways to make a fortune.
For example…
Songwriting brothers George and Ira Gershwin wrote an entire catalog of hits between 1920 and 1937.
Today, their heirs make around $8 million per year in royalties from songs written nearly a hundred years ago.
You can also buy shares in royalty stocks, like Royal Gold.
If you were an early shareholder in Royal Gold, you'd be sitting on extraordinary long-term gains of over 39,000%.
But here's the thing…
You'd have to be related to someone in show business, like the Gershwins… or have the good fortune to have bought Royal Gold back in 1981, to make anywhere near that kind of money.
But what if I told you that today, you could get in on the ground floor of a revolutionary and entirely new kind of resource royalty company?
Like Royal Gold, only better.
It has nothing to do with gold… silver… oil… trademarks… or anything like that.
It's much, much bigger.
Consider the development of email…
Now imagine how rich the man who invented it, Ray Tomlinson, would be if he received a small royalty on every single email ever sent.
Or take fracking…
Just when it looked like "peak oil" was here, fracking completely revolutionized the industry – making America one of the biggest oil and gas producers in the world.
Now just imagine if George Mitchell, the Texas oilman who first commercialized fracking, received a royalty on every single well that ever used fracking technology… now, and in the future.
The royalty opportunity I want to tell you about today is that big…
In fact, I'm the first person in the world to reveal the details of this brand new–and until now, very secret–opportunity…
Hi – my name is Marin Katusa.
Starting from scratch, as a former math professor, I've built a large multimillion dollar fortune over the last 17 years… because of my ability to find incredible new investments that frequently pay off big.
Including gains of 1,480%… 1,250%… and 1,053%, to name a few.
I find investments like these because I don't spend all day sitting behind a computer.
I know some of the world's leading financiers, fund managers, CEOs and private investors personally…
And my passion is bringing these professional-level opportunities to folks who would never have heard about them otherwise.
Frank F. said…
"I made half a million dollars in less than a year, thanks to you on a $65,000 investment." 
The opportunity I want to share with you today is, without a doubt, the biggest of my career.
A disruptive new development—similar to a "toll-road" crossing three continents—will completely turn a secretive $80 billion resource industry upside down…
Just like fracking did to the oil industry fifteen years ago…
And make early investors a fortune.
I call this opportunity "Forever Royalties," for two reasons:
One, because this rare resource truly lasts a lifetime…
And two, because never before in history have royalties on this valuable commodity been available to anyone outside the industry—until now.
This is truly a "forever" investment, with the chance at a lifetime of incredible cash payouts…
This development could even win the Nobel Prize.
For early investors…
"Forever Royalties" could be the biggest opportunity of them all.
It's like getting in on the ground floor of Royal Gold…
Or royalty company Franco Nevada, which made long-term gains of 17,256%… or Wheaton Precious Metals, up 89,740%.
As I'll show you, this will be like receiving a royalty on every tithe, every Sunday, from every one of the 1.2 billion Catholics around the world.
A brand new royalty business that I believe could return as much as 500% within the next six months, starting now… and 2,000% or more over long term.
In my 17 year career, this is without a doubt the single best opportunity I've ever seen.
I'm going all in with millions of my own money…
Today, you have the chance to join me.
Before I continue…
There's something you should know upfront about Forever Royalties:
I cannot reveal many details here.
In short, almost anything I say could very easily give this away… which would ruin it for folks who are serious about getting involved.
(I had to sign a non-disclosure agreement when this deal was first brought to me. I couldn't tell my business partners or even my wife about it.)
Of course, I'll give you as many details as I can, so you understand the scope of this incredible opportunity.
But that's why, if you decide to take part, I ask you to keep this research to yourself.
For starters…
It's no exaggeration to say that what I call Forever Royalties is almost exactly like owning a royalty on fracking technology… where you'd receive a small payment from each of the millions of wells using it.
Just like how fracking completely disrupted the "old" oil business…
The disruption behind this new royalty company will completely revolutionize a small sector of a market that hasn't changed in over 100 years.
How do I know this?
Because I was on the front lines of the fracking revolution… and I made millions by being early.
1,100%… 670%… and 628% Gains From
Disruptive New Technology
Earlier, I mentioned George Mitchell, the father of fracking…
Mitchell's son and a key associate of theirs invested in my first-ever fracking deal, Cuadrilla in 2006.
At the same time, one of the world's wealthiest resource investors, who I'll call "Mr. O," approached me to learn more about fracking.
I kept telling anyone who would listen that fracking would turn the oil industry upside down.
Even though I offered Mr.O the opportunity to  a invest in Cuadrilla, my first big shale fracking company…  Mr. O didn't believe fracking would unlock the oil from shale economically. He just wasn't a believer in the coming shale revolution in 2006.
I was.
At the time, I had been working with one of the world's leading oil geologists to find and buy some available acreage in the Bakken shale, one of the largest oil developments in North America in the last 40 years.
I knew fracking would completely turn the oil industry upside down – it was already happening.
I told Mr. O he was flat-out wrong.
Cuadrilla was an incredible discovery. And fracking made it possible.
Mr. O passed on the deal… but his head oil geologist made it his largest investment ever. It was mine also at the time.   
I became the largest shareholder in the early stages of Cuadrilla. Later, George Mitchell's son joined me, as did the CEO of a very successful oil company backed by the Mitchells, one of America's richest, most successful oil families.
As it turned out, Cuadrilla was the cheapest project per acre out of anything else on the planet… because we knew something no one else did:
When our geologist discovered the original drill data in a government archive, he discovered that its land had been drilled in the 1970s—with incredible results.
We got it right…
And made 670% gains on Cuadrilla in less than 12 months – and got paid out during the global financial crisis.
Here's the second thing about Forever Royalties you should know:
It's unconventional… and to take part, it requires that you take a very small position in an investment you may not be familiar with.
That's what happened when I got into an amazing deal with a company called Africa Oil…
Royal Dutch Shell first discovered the South Lokichar Basin in Kenya in 1992. It was a massive oil and gas discovery. At the time, the politics and economics simply didn't pan out.
But years later, a good friend of mine – who's also one of the most important resource financiers in the world – formed Africa Oil and took over the discovery.
It turned out to be a world-class oil field… in an unconventional place.
It might sound crazy to invest in a speculative African oil field…
But I was so sure about it, I went on a national financial TV show and told folks that Africa Oil would go up 10x.
People thought I was crazy.
Actually, I was "wrong"…
Investors who took my advice were up over 1,100% in two years.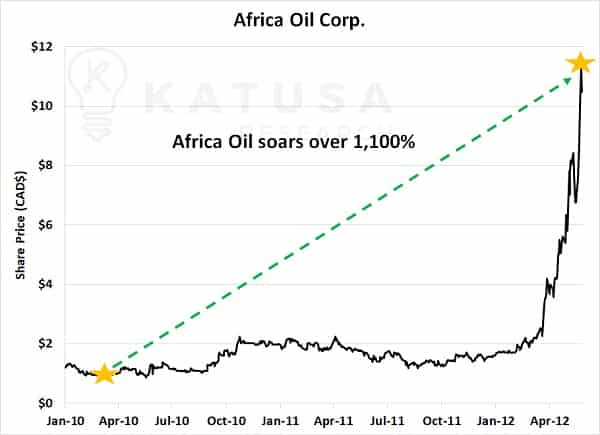 The last thing you should know about this new royalty company:
It's publicly traded… but it's not a conventional royalty stock.
If you ran a stock screen for "royalty companies," you'd never find it.
Basically, it's a "backdoor" way to collect royalty checks from this $80 billion industry.
It's very much like a deal I did with a company called Canada Jetlines…
At the time, Canada had an airline duopoly, which caused it to be the most expensive place in the world to buy an airline ticket.
That was because of a government rule that only 25% of shareholders could be foreign.
A talented dealmaker I knew pitched Canada Jetlines to me. The company was making a play to be Canada's first-ever ultra-low-cost carrier…
Oil prices were terrible at the time. I immediately recognized it as a "backdoor" way to play cheap oil, because that's when airlines make more profit.
Boeing was in on the deal… and when the Canadian government changed the foreign investor rule from 25% to 49.9%…
I agreed with Boeing to backstop the deal, becoming one of the largest investors.
My "backdoor" oil investment in Canada Jetlines returned over 600% in less than 24 months.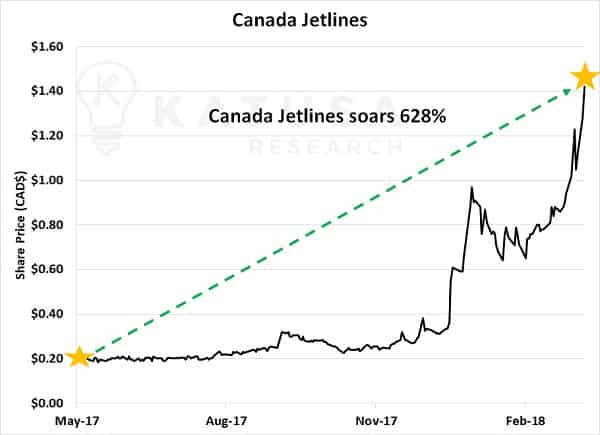 So I don't say this to brag…
But I have the connections and the financial wherewithal to confidently say that Forever Royalties is the absolute best idea I've come across to date.
The only way to hear about situations like this is to have the types of connections I have in the commodity resources world.
Like my good friend Doug Casey, multimillionaire resource speculator and New York Times bestselling author, who said:
"Marin Katusa is a genius… the best stock picker in the natural resource field, ever."
Or my colleague Nolan Watson, President & CEO of Sandstorm Gold:
"Marin is a savvy investor. His excellent past returns speak for themselves."
And another good friend and colleague, Garth Braun, President & CEO of Blackbird Energy:
"Marin recognizes value and he's very challenging to company management, in a good way. He pushes very hard to make things better for shareholders."
The fact is…
Knowing and working with influential insiders like these is what first lead me to the incredible opportunity we have today with Forever Royalties.
The Secret to 4,160% Gains
You see, in this kind of investing – little-known natural resource investments…
Who you know is just as important as what you know.
You can't just sit behind a computer… or run a stock screen… to uncover the most lucrative new ideas.
By the time you read about these companies in the Wall Street Journal, you've missed out, because the big gains have already been made.
To make these big, asymmetrical bets with a margin of safety, you have to be in the room with the major players… the geologists… the CEOs… and the venture capitalists…
And you have to do a lot of legwork… including "boots on the ground" in-person research.
For example, I spend long hours in my office in downtown Vancouver, the heart of global resource finance, poring over data.
I hear hundreds of "deal pitches" every year.
I network constantly with some of the world's most influential CEOs and financiers.
And in the last decade, I've flown over one million miles to visit literally hundreds of resource projects in person… often in places most people would never set foot in, let alone drink the water from.
It's a lot of work… but absolutely necessary for putting together the kind of track record I have.
Just one example:
In 2010, I traveled to Iraq to perform a series of site visits for a new off-the-radar oil project.
The Iraq war was still going on. For our protection, we hired guards armed with AK-47s to go with us.
As you can see in this picture, they even had me wear a bulletproof vest, just in case…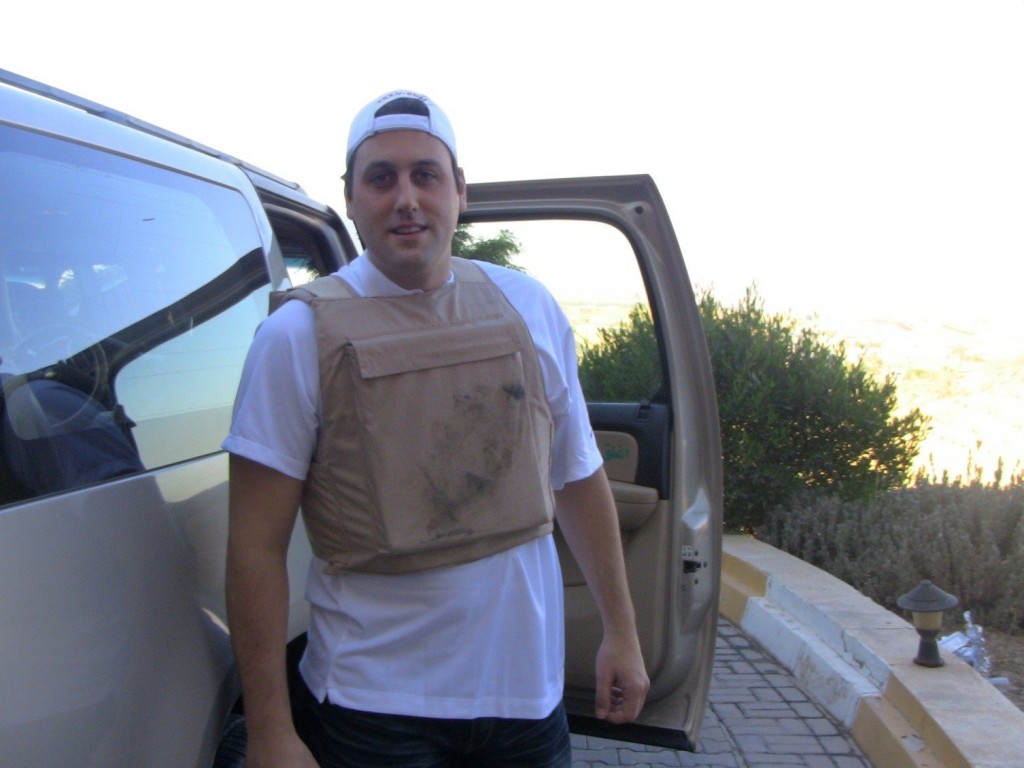 I didn't take any fire…
But what I discovered in Iraq led to a group of folks making 322% gains.
Doing this kind of in-depth research is the reason why I've become a multimillionaire…
And it's how I've helped a lot of folks make the same percentage gains as I do.
Including:
718% gains on Pitchstone Energy, after I met one of the most respected uranium geologists in the world through an angel investing group I belonged to in Vancouver…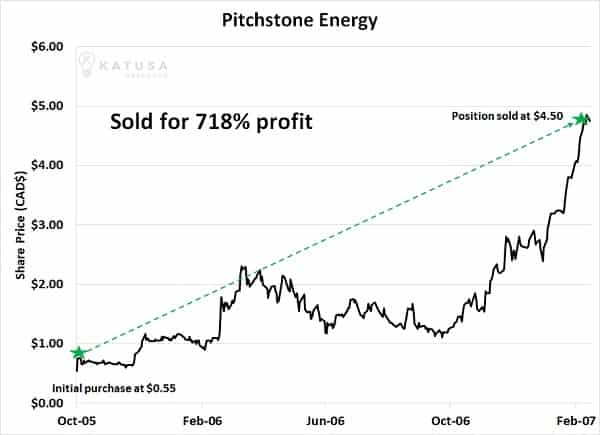 2,001% gains on Prophecy Resources, a secretive, off-the-beaten-path project headquartered in Ulaanbaatar, Mongolia… after I got the full details about its assets from my contacts in the industry.
A huge gain like that turns every $10,000 invested into more than $200,000…
1,852% gains on Uranium Energy, after a mining executive friend of mine introduced me to this world-class but highly undervalued project. I visited the mine in person… I knew all the players involved… and I knew it had extraordinary potential.
Once the market caught up to what we already knew, Uranium Energy's performance surprised even me…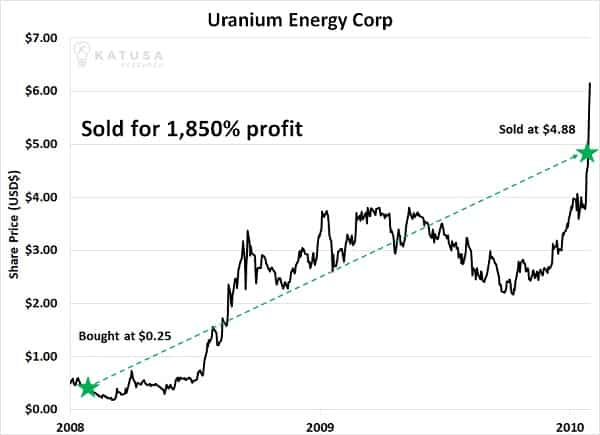 1,450% gains on Ryan Gold, where I met the management team on a site tour in the Yukon Territory – average winter temperature: -22 degrees. Our plane was frozen… I helped de-ice it and push it onto the airstrip so we could make the tour.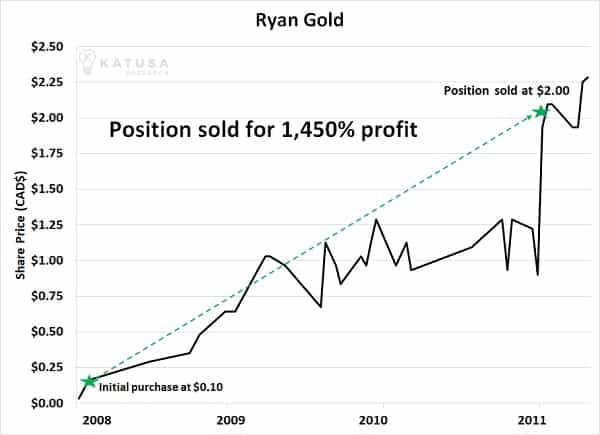 After that experience, the company president started reading my research… because he saw firsthand the lengths to which I would go to investigate a story.
(Thanks to that experience, I later helped finance the president's next company – making over 900% on that deal…)
In short:
I work incredibly hard 24-7 to nurture and build this network because it's how I hear about ideas like these.
That's why I'm so excited to finally share Forever Royalties with folks who are interested…
The investment and management team behind this secret "toll-road" opportunity – all of whom I know and have personally worked with – are the 1-percenters of natural resource companies.
If you're familiar with natural resource stocks…
You would definitely recognize at least one of these super-investors' names (for obvious reasons, I can't mention them specifically here)…
Combined, they've brought some incredible wins to shareholders.
Including:
1,498% gains in a junior exploration company
A 228% buy-out in less than 24 months
4,150% gains from a commodity producer
567% gains in a mining company
1,067% gains in an energy company
1,399% gains in an energy company
Here's the best part:
Over a 25-year career, one of these super-investor's track records is a perfect 100% success rate for investors.
Including being directly involved in two world-class discoveries… one being one of the most valuable mines ever.
In short…
The investors behind Forever Royalties are winners, and they know how to make money for shareholders… even in volatile markets.
Most importantly, they each have tens of millions of their own money on the line, at the same price as those who buy the stock now.
To give you an idea of how powerful it can be when you get in on a lucrative royalty stream at an early stage, and at a dirt-cheap price…
Consider this:
When Royal Gold started out in the 1980s, it was a penny stock no one had ever heard of.
But you could have got in for 25 cents a share… and racked up total gains today of more than 39,000%.
That's why acquiring royalty interests in the very early stages is one of the all-time great businesses…
Except Forever Royalties are much, much bigger.
It's like getting a royalty on every single gold project in the world… not just from a single company.
You see, royalty companies like Franco-Nevada, Royal Gold, and Wheaton Precious Metals do not own or operate mines.
They simply make an upfront investment in mining assets, in exchange for a cut of everything that comes out of the ground at a particular site. And they do this over and over again, collecting a portfolio of royalties on various mining projects.
And this business model has given folks who follow my work the chance to make a lot of money over the years.
For example, I was the lead investor in royalty firm Sandstorm Metals and Energy before it was bought out and turned into Sandstorm Gold for triple-digit gains…
And as one of the investors in the royalty company Wheaton Precious Metals when it was called Silver Wheaton… some folks (including me) made a lot of money when we sold.
Today, I've discovered something even better.
It's a "secret" royalty business that's much smaller than Royal Gold, Sandstorm, or Wheaton Precious Metals…
But with MUCH bigger upside than any other royalty firm you've ever heard of.
It has nothing to do with oil… gold… or battery metals ­– the potential is bigger than any company in those sectors.
In fact, there are only a handful of companies on earth that do anything like this – and there's only one with a new technology that's truly going to revolutionize this industry, starting this month.
I cannot reveal any identifying details about this opportunity.
Very few people know about this "secret" royalty right now. If word gets out, the opportunity will disappear.
This is one secret we don't want spilling out to the general public by our favorite stock sleuth.
As I said, this is not a traditional royalty stock.
Right now, there are no royalty businesses in this particular space at all.
The company itself owns and runs one of the highest-margin and most valuable operations in the world.
On the surface, it looks just like a boring, well-run, profitable company.
And the founders, all of whom I know personally, are among the wealthiest, most successful commodity investors in the world.
This new Forever Royalty ­is the result of a brand new technology this company recently developed.
Over the last fifteen years, there has been only one major technological disruption in the resource sector:
Fracking, which completely changed the oil industry… and made many early investors multimillionaires.
The breakthrough new technology will be the second big disruption.
Once you start making money this way, you'll
never look at investing the same way again…
Another great thing about this situation:
Trading for under $2.25 per share, you don't need a lot of money to get in on Forever Royalties today.
With a small amount of money—just $5,000, or even much less—you could easily position yourself to become a millionaire in the years to come…
All from just one single royalty stock.
How can I be so confident?
It's easy.
After almost 20 years as one of Vancouver's top resource financiers…
This situation checks all the boxes for making sure your money is in exactly the right place… at exactly the right time.
It's as low-risk and high-reward as anything I've ever seen.
Let me show you what I mean:
#1: A rare disruption in the resource market
Like I said before, the disruptive innovation behind Forever Royalties is like fracking, only better.
It's like getting a royalty on every single well that uses the technology…
And this is an industry where disruption has been a long time coming.
It hasn't changed much in over a century.
It's old, inefficient, and occasionally controversial…
And just a small handful of well-connected people at the top make huge profits as a result.
Yet this $80 billion industry literally touches almost every single person in every First World country.
It's bigger than the silver, zinc, lithium and cobalt markets combined…
Yet transactions in this business are largely done privately, through a method that pre-dates WW1 by decades.
Without saying too much…
The commodity I'm talking about has several forms for different uses.
In the current market, because this resource is so valuable, it always gets to where it's going, from the mine to the end-user…
But the "road" it travels to get there is long, fractured, inefficient, and not at all transparent.
Until now.
Think of the current market as an unpaved, winding dirt road that takes days or weeks to travel…
This newly developed technology will turn it into a modern super-highway with toll "checkpoints" that will take just seconds, used by every single company in the sector.
That's why I refer to it as a "toll road"…
Because by buying shares of this company, you'll receive a little piece of every single "checkpoint" transaction – a toll – in this entire industry… for as long as you want.
The fact is, you don't see huge industry breakthroughs like Forever Royalties often.
You may get one or two of these in your lifetime, if you're lucky.
#2: Tap into the power of my network
In this business…
WHO you know is just as important as what you know.
Like I said earlier, the super-investors in the Forever Royalty company are friends and colleagues of mine.
They are the undisputed leaders of this $80 billion market… what Jamie Dimon is to the banking industry.
I can pick up the phone any day or time of the week, and they'll take my call.
But there's another influencer I met years earlier that gave me my most important insights into this market…
Let's call him "Mr. U."
Mr. U is the politically-well-connected former chairman of this industry's global council, with tens of thousands of employees.
He asked me to evaluate the financial statements of his private corporations, and give him my thoughts.
In the process, I learned closely-guarded secrets of this unusual sector, from one of the most important men in the business.
That gives me a HUGE edge that very few people in the world have on this new royalty development.
It's almost an unfair advantage…
#3: It's ready for blastoff
The best thing about the technology behind Forever Royalties?
This isn't some pipe-dream technology that may or may not happen in the future… or is still in the testing phase, with years before it's a reality.
This "toll-road" is online right now—and it just completed its third run.
Twelve major companies took part (that's up from seven for the second run).
These companies are not only joining in, they're increasing the amount of product through this "pipeline" WITH EVERY SINGLE RUN.
The company is gearing up for run #4…
And the latest royalty checks will be sent out in September 2019.
In short, this is only the very beginning of this technology being adopted industry-wide.
The full details on the latest major "toll-road" run will be released on August 8th, 2019… when the fourth run will begin shortly after…
Once Wall Street analysts, funds, and investors catch on to what will be the mother of all disruptions—and this technology "toll-road" really starts ramping up through 2019 and 2020—this stock is going to skyrocket.
Start with $5,000 today, and you could eventually become a millionaire.
As I hope you can see by now, I'm not some desk jockey who spends his days looking at a computer screen hoping to find the next hot stock.
I'm a major player in this game, and I can help you in a way NOBODY else can.
Look, it's no secret why most people never make 1,000% on a single investment in their lifetime…
They don't have an "in" to recommend plays with the highest potential.
But if you understand who the players are, and what's about to happen next, 1,000% gains—or much more—can become a reality.
That's what I'm offering you today. An "in" on the fastest way to get rich I've ever seen.
This is already one of the world's best mining stocks, bar none.
It's ridiculously cheap, with an ironclad balance sheet.
It owns one of the highest-margin operations in the world…
And management makes more in royalty dividends from their shares than they make from their yearly salary. (Talk about skin in the game!)
The fact is, starting this month, this secret royalty stock will do much more than make a handful of investors rich.
I can tell you from seeing it firsthand:
This new development – and the revolution it will bring to this resource market – will do more for the world than all of the green energy companies combined. 
Once this technology becomes widely adopted – which is happening right now, in the extreme early stages – I believe this could be the first resource company in the world to receive a Nobel Prize, because of the wide-ranging impact this technology will have on people around the world.
So when you add it all up…
A disruptive transformation of this magnitude – just like fracking was to oil – means there's potentially A LOT of money to be made right now, while it's still very early in the game.
Best of all, you'll be collecting a royalty on every single transaction.
And you can make an investment in this company right now, through your regular brokerage account.
But if you want to make the most money possible, you must get in as soon as possible, before this situation really ramps up in the next few weeks… and the mainstream financial media gets wind of it.
If you're interested, I'll show you exactly what to do right now.
I have never felt more confident about a single stock in the past fifteen years.
And that's why I'm willing to put my money where my mouth is…
You see, unlike many people in the financial research business…
I put millions of dollars of my own money on the line when I find new opportunities like this one.
This is actually very unusual in the industry.
Many financial "experts" are basically just journalists with no real expertise… and no money of their own on the line.
They produce all their work by reading Internet stories from behind a desk. If they do a site visit, it's nothing more than a photo opportunity for their marketing team.
That's not how I operate at all.
This is what I do for a living, and I've been doing it for almost 20 years.
So if you're interested in getting into this huge new royalty opportunity alongside me and some of the world's best investors, I've prepared a full briefing on this situation that I will send you free of charge, immediately.
It's called Forever Royalties: Perpetual Income and Potential 2,000% Gains.
In it, I'll show you…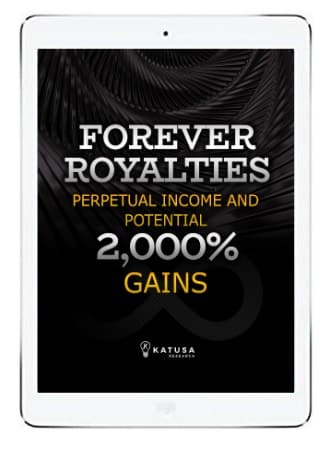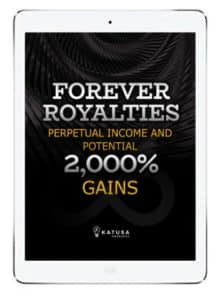 The name, ticker symbol, and the exact price you should pay for this brand-new royalty company.
The super-investors behind this company.

The full details on this brand new technology, and exactly how it will radically alter this entire $80 billion industry, starting right now…

Why I'm making this the single largest investment of my career, putting millions of my own money in… and why this is a stock you would want to own forever…
How this development could even win the Nobel Prize… How Amazon could get involved… And everything you need to know to get in early before the rest of the world discovers this opportunity.
To receive my new research report, Forever Royalties, with my compliments…
All you have to do right now is secure your membership today to my research service, called Katusa's Resource Opportunities.
It's like a "personal journal" of what I'm doing with my own money.
Like the opportunity I've been telling you about, I doubt you'll hear about any of the ideas I'll share with you in Kastusa's Resource Opportunities anywhere else.
They've generated millions of dollars for me, my friends and family, and plenty of other folks in my life.
For example…
Years ago, I was having a suit made.
I urged the tailor to get into a stock I knew had extraordinary potential.
My tailor made 10 times his money on the idea…
Another friend of mine is one of the world's top resource investment fund managers. I urged him to take a position in a tiny company called East West Petroleum.
As the company soared, my friend made over $1 million in his fund…
One reader, G.T., wrote:
"Investing in Marin's ideas is the best decision I ever made. He puts his money where his mouth is. I invested $15,000 in his recommendation of Blackbird Energy. I was up 193% in 3 months. I invested $13,500 in Northern Dynasty. In less than three months, the value of my investment was over $52,000… up 280%."
Another reader, Rob B., said simply:
"I have made so much money from your service, I can't thank you enough!"
And reader Nick F. stated:
"My portfolio has taken off completely. Marin has made a fantastic difference in my success."
Not everyone makes huge dollar amounts from my recommendations…but the impacts can still be very meaningful.
One friend of mine, for example, put just $1,000 into a deal I shared with her that made her 10 times her money. She took her parents on a nice vacation with the proceeds (that's one of my favorite stories).
My point is that scouring the world for great new investment opportunities and sharing them with a group of like-minded folks is what I love to do.
That's why I've flown over a million miles…
Invested tens of millions of dollars…
Have billionaires, top fund managers, entrepreneurs, and geologists in my network of friends and clients…
Have personal contacts at the highest levels of governments around the world…
And know every project and deposit in the world worth knowing about.
Katusa's Resource Opportunities focuses on small resource firms with the potential to grow 100%…300%…500%…even 1,000% or more.
Although popular "story stocks" such as Tesla and Amazon get most of the press…
Most folks forget that our civilization is built on a "low-tech" foundation of steel, coal, concrete, copper, lumber, and aluminum.
Feeding, clothing, and housing billions of people requires enormous amounts of agricultural products such as corn, wheat, soybeans, rice, cotton, sugar, coffee, and livestock…
And our cars, trucks, and airplanes consume millions of barrels of fuel every day…
Simply put, mankind's constant demand for raw materials ensures the resource sector will always offer some of the biggest investment opportunities in the market.
Bottom line:
If it's an incredible early opportunity in the extraction, transportation, storage, or refinement of natural resources, you'll read about it in Katusa's Resource Opportunities.
Before I show you how to get involved, a word of warning:
I don't know about you…
But I wasn't born with a silver spoon in my mouth. Far from it.
That's why I love helping individual investors make the same gains enjoyed by the best investment professionals.
And that's why I'm willing to share this research with you for a very reasonable price.
In short: I believe Katusa's Resource Opportunities could easily help you generate $250,000 or more in the coming years.
But to be upfront, the service may not be right for you.
And that's for one simple reason:
You won't find any blue-chip stocks or conservative bond investments in Katusa's Resource Opportunities.
To make huge returns in the resource market, you must be comfortable with risk.
This often means buying stocks with very small market caps…the kind you'll never see in the mainstream news, or hear about from your broker.
These stocks can be volatile. And it's important to note that not every opportunity will be a winner.
But that's why the gains can be so hugely rewarding:
In most cases, you're getting in early… before the rest of the world discovers these ideas and sends them skyrocketing.
Just take a look at the gains my readers and I have made in opportunities like:
In short…
The money you can make from just one or two massive winners is enough to buy a new house… or put a kid through college.
If you're willing to learn a new way of making money… if you're willing to venture outside the conventional world of regular stocks and bonds…
You'll be able to act on most of my recommendations immediately.
Others will be "watch list" stocks, where you need to be patient.
I do this because the exact price you pay is so important on small stocks like these.
It can be the difference between a huge winner, or ending up on the wrong side of the trade.
Finally, you should have at least $15,000 in capital.
It's none of my business how much you invest in my recommendations. But people who are equipped to use this service typically have accumulated capital and experience with which to speculate. 
By now, you may be wondering… how much to get in?
"I made exactly half a
million dollars…"
Consider this:
Top hedge funds happily pay $50,000 for research projects like Forever Royalties.
Also consider that, in the past, people have paid $25,000 annually for access to my ideas.
But for a very limited time—until this offer expires—we're not charging anywhere near that much.
It's not cheap, though… for two reasons:
One: This research is extremely expensive to produce.
As you'll see, what I do is far beyond what you'll ever see from other research firms. 
I spend over $100,000 per year on information data services alone. I travel constantly. I have a full-time, six-person staff in my office in Vancouver, and dozens of outside contractors. When I need specialized insight on projects, I pay expensive experts, because I only use the best in the business.
That's why I can practically guarantee that what you'll receive from me is a FAR higher-quality research product than you'll find anywhere else.
Two: Because I focus on small, often thinly traded companies with the potential for massive gains, the high price tag ensures the right number of people can get shares at the price I recommend.
Keeping the price of this service high is the only way I can ensure this information stays valuable for serious investors.
After all, in the hands of the right investor, this kind of information can be worth a fortune.
For example, reader F.F. said:
"Marin always finds investments I have never heard of, but I've learned to pay attention. He suggested buying Brazil Resources… I made exactly half a million dollars after getting back my original $90,000 — over 500% in less than a year."
For the kind of gains I'm confident this research will deliver ­– including the single biggest investment of my career, Forever Royalties…
Normally, you can get a full year's access to my best recommendations for $3,500.
(To do what I do on your own, it would cost you well over $1 million. And take you decades of personal experience.)
But until this offer expires, and because of the Forever Royalty opportunity I want to share with the right people…
You can get access to my Forever Royalties report and receive a one-year subscription to Katusa's Resource Opportunities for just $2,500—a full $1,000 off the regular retail price.
Once a month…
In Katusa's Resource Opportunities, I'll share my best ideas with you, for one full year, at a significant discount… and for a small fraction of what it would cost to join a commodity hedge fund.
Immediately after joining, you'll receive access to my current favorite recommendations, including:
Forever Royalties: Perpetual Income and Potential 2,000% Gains
You'll get the full details on my biggest-ever personal investment to date – a brand new royalty company that will be to this industry what fracking was to oil…
The specifics on this brand new technology, and exactly how it will turn this $80 billion market upside down, starting right now, in the early stages… And how much you can expect to make on this company in the months and years to come.
PLUS:
You'll also receive urgent special alerts from me as necessary, when I spot an opportunity to buy or sell an investment that simply can't wait days or weeks.
One last thing:
Because I'm giving away the specific details on how to profit from this incredible new $80 billion royalty opportunity – my biggest investment ever – there are NO refunds on this offer.
Unfortunately, there are "tire kickers" out there who sign up, get the research, then cancel.
Frankly, I can't have people like that involved in this opportunity.
This research is far too valuable.
Again, it's ONLY for serious investors who know the value of high-quality, professional-level investment research… and who have the speculative capital to take advantage of it.
This idea alone will give you the chance to make as much as 300% or more in the next 6 to 12 months…
Long term, you could see as much as 2,000% gains or more… like many other investments I've made personally and recommended to my subscribers.
Including:
To take advantage of this revolutionary new royalty opportunity alongside me and some of the best resource investors in the world…
Just sign up now.
In the next few minutes, you'll receive a password to our secure website, where you can access your free report, Forever Royalties, and everything else I mentioned, included with your membership.
Just keep in mind:
If too many people respond – which I fully expect – I reserve the right to take this offer down at any time before this offer down at anytime.
In other words, this may be the only time you see this offer.
I can't stress this enough:
This is truly a once-in-a-lifetime opportunity.
If you missed out on the big gains in fracking… in royalty companies such as Royal Gold that went up thousands of percent long-term…
This new and urgent development in the commodities industry will be bigger than both of those put together.
You could truly make the biggest gains you've ever seen in your life.
I urge you not to miss this.
To get started, simply click on the "Proceed to Checkout" button below.
This will take you to a safe, secure site where you can review the full details of this offer before placing your order.
Regards,