An Urgent Alert from the Desk of Marin Katusa:
DO NOT BUY ANOTHER GOLD STOCK UNTIL YOU READ THIS CAREFULLY
Why the final quarter of 2020 – BEFORE the U.S. presidential election – could be your last chance to get in on potentially the biggest gold bull market in history…
It's why I'm betting millions of dollars of my own money on 5 specific gold stocks.
Full details below…
Right now, we're on the cusp of what may be the biggest bull market in gold and silver in the last 50 years…
And that's the purpose of this urgent market alert today.
You see…
Despite the gains in the last year or so…
Gold and silver stocks are still in the MINOR LEAGUES.
Here's what I mean by that:
Active investment funds are still not participating.
Neither are mainstream investors.
But the fact is…
The tailwinds for precious metals in the next six to 12 months are just too strong to ignore.
That's why now is exactly the best time to get in.
Gold could enter the Major Leagues at ANY moment – and you DO NOT want to miss staking your claim in the coming rush.
The U.S Presidential election – and however long it drags on – could be one of many catalysts that fuels an incredible price rise and interest in gold.
But no matter who wins…
Governments around the world will continue to stimulate their economies beyond what you think is possible, far outnumbering the tax dollars coming in.
Billionaires like Buffett (who never had a good thing to say about gold until recently), Stanley Druckenmiller, Ray Dalio, and other major funds are getting into precious metals…
Market sentiment is now at extremes.
Fear and uncertainty are in the air…
Which makes it the perfect time to create your gold and silver stock hit list.
What If Every Gold Stock You Bought
Was a Winner?
When gold climbed to $2,050 this year…
Many gold stocks in our portfolio went up 50%–660%.
In fact, every single gold stock in our portfolio went higher in 2020.
Long-time readers of my research service, Katusa's Resource Opportunities, will tell you…
I'm not cherry-picking returns.
Just take a look at how our gold portfolio performed in 2020, compared to the Nasdaq and FANG stocks…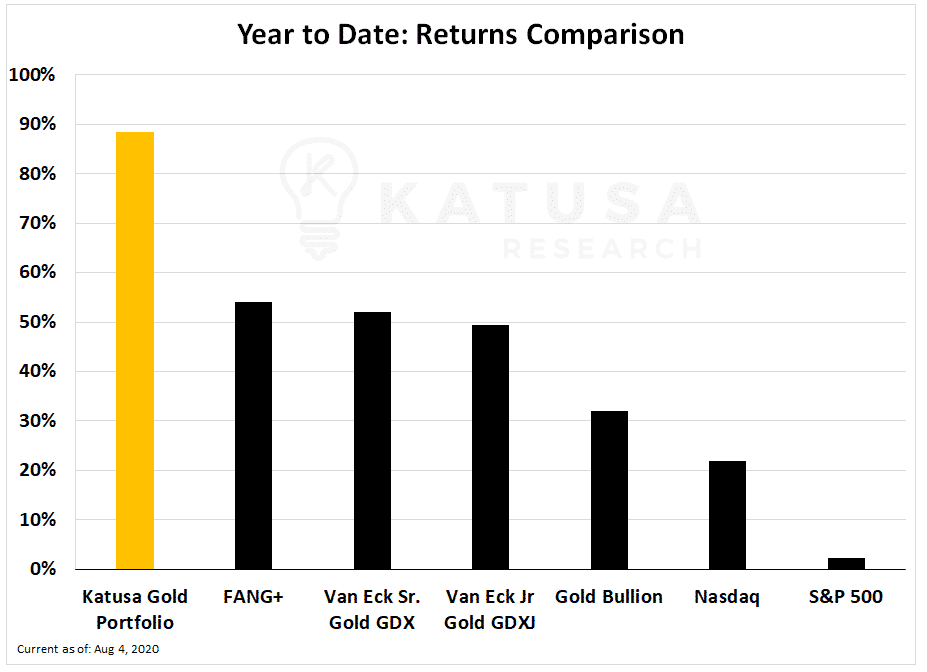 Our winners include:
A 201% profit in a gold producer  (we're now holding FOR FREE)…
A 664% profit in a junior gold company that picked up a top-tier asset  (that we're also holding FOR FREE – and could double from these levels)
A 586% profit in a small gold company in one of the best locations in the world.
A +1000% gain in a copper gold company that KRO subscribers got as a spin-out from a gold producer that also delivered +300% gains
These moves tell me that right now, we're entering an era of incredible change… and opportunity.
Not a SINGLE gold position was in the red.
We even had multiple double and triple-digit wins across the entire resource portfolio:
130% profit in a world-class company, where we're holding shares for free and getting paid a fat double-digit dividend…
189% gain in a mid-tier gold producer
A 920% return in a copper exploration company (with zero added risk)
A 47% profit in one of the world's top energy companies  (and still paying us a handsome dividend)
113% profits in a gold/copper development company
To prepare for the coming gold boom…
I've put together a specific portfolio of gold and resource stocks to ride the coming boom in commodities – especially gold and silver.
Now, I am looking to deploy the profits and more capital into the best-positioned plays.
Because I see many black swans circling that could provide an incredible buying opportunity…
One major change will be the psychology of not just government leaders but investors, business management teams, and everyday citizens towards gold.
It's happening already.
I believe we're approaching a critical period my subscribers and I have been preparing for…
…for years.
Right now, the world is going through a time of great change and upheaval.
Geopolitical turmoil… international trade and energy wars…stagnating first-world economies… and some of the lowest interest rates in history…
It's all setting the stage for what I believe are the greatest resource investment opportunities we've seen in a generation.
We are in the late stages of the gold and silver bull market – but ONLY in the Minor Leagues (Triple-A ball).
As I'll explain…
We haven't even hit the big leagues yet.
Tick… Tick… BOOM
Gold and Silver Will Explode Higher Once it Hits the Major Leagues
The mining sector caused so much wealth destruction in the bear markets of 2011–2015
Over half a trillion dollars of company valuations and invested capital has gone to money heaven.
With that poor performance, the whole gold sector got demoted to the minor leagues.
In baseball jargon, those are the "triple-A" teams.
Yes, well-known investment figures such as Ray Dalio, Stanley Druckenmiller, and even Warren Buffett have recently made heavy investments in gold and gold equities.
I still believe that gold hasn't even started its first inning in the big leagues.
This will be hard for most to fathom…
Considering we have had such large runs in many gold equities.
But gold remains in the minor leagues when seen as an investment on the global stage.
Yes, as important as it is to us—the gold speculators and investors—the gold sector is not at all important yet to the global flow of capital.
Eventually, we will see a widescale acceptance of gold and gold equities into the passive funds, then active funds, like we have never seen before.
Over the next six to 12 months…
I believe my thesis will play out very well and everything I am "preaching" will make sense.
I believe our portfolio will be in an incredible position for the massive rise when the industry gets promoted to the major leagues.
The gains we've seen so far in 2020 could be just the start.
My team and I are working long hours to position subscribers into what I believe will be the biggest and best deals in the gold major leagues.
That's why I'm investing millions of dollars of my own money into an incredible group of carefully selected gold stocks…
These are the "best of the best" in the entire sector, run by the best management in the business…
I'm not talking about pie-in-the-sky junior stocks.
And micro caps run by a geologist with a box of crayons and no business sense…
Or public companies that are so illiquid you can't trade a small position (there are plenty of other newsletters out there for that very risky sector of the market).
I'm talking about companies run by the best and brightest in the mining world…
With considerable amounts of their own money in the same stocks that we are recommending.
Keep in mind:
Another "black swan" scenario like Covid-19 in March and April 2020 can give us a last chance, once-in-a-lifetime opportunity to own the "best of the best" stocks at values that were considered farfetched just weeks
When this coronavirus and election chaos passes—and it will—these stocks could absolutely skyrocket… potentially handing early investors a small fortune.
If you want to go along for the ride with me…
For the next 3 ONLY…
I'm opening a special, limited-time offer for you to Katusa's Resource Opportunities.
No doubt, these are volatile and confusing times.
But in times like these, fortune favors the brave.
Over the last few months, we urged subscribers to get ready with large US Dollar cash reserves to get ready to pull the trigger.
In January, we wrote that "Doctor Copper" was signaling trouble in the markets. Our research said to stay on the sidelines.
And we said to take profits on many of our gold positions.
Then… when the March Meltdown came…
We went big into the markets from mid-March to late April… making some incredible gains—like 920%… 609%… 586%… 201%… and 189%.
Most importantly, this is the most important single event you should prepare for…
How to Prepare – and Profit – from a
Gold Price Shock
There are 4 different scenarios that could play out right now in North American markets.
We're already in Scenario 1, as you can see on the chart below…
Scenario 2 could happen in a day, a week or a month.
The final result of the U.S. Presidential elections – however long it takes to decide – will have significant impacts on the gold price, one way or another…
That's why you must be prepared to take action now.

The clock is ticking.
You can't sit on the sidelines and watch.
If you want to position yourself for what could be the start of a massive gold bull market when Scenarios 3 and 4 begin…
Katusa Research has a fantastic portfolio of the best gold companies.
Even though some of these positions have gone up a lot already, you still haven't missed out… yet.
So if you're interested…
We'll be riding the potentially historic gains as far as they will go.
(In fact, we are also getting close to publishing on two new Private Placement deals, where I will be personally writing big cheques. Depending on demand and availability, there's a chance you'll have the opportunity to get in on them alongside me.)
During this unprecedented year, the subscriber feedback we've been getting is incredible…
 "Marin's research is outstanding and for those who don't believe these returns this is all 100% true. I have paid for my subscription with the gains 3x over."
–Jarrod L
 "Congratulations on your first prediction for 2020 coming true early – I'm now reading your review a bit more carefully given the credibility of your analysis. Keep up the good work. It's work like this that makes me glad I subscribed"
-Kelly I.
"I think I found if not the best, for sure one of the top places to start investing in stocks, and at the best time. Thank you again."
-I.M.
"I love your newsletter — it's making me money! Thank you!"
-Michael B.
 "I have been subscribed to your newsletter for the last 12 months and have greatly benefited from the insight, research and advice."
-Brian T.
(We have over 190 pages of reader feedback like this)…
And if you'd like to take advantage of my special, 3-day-only offer to join Katusa's Resource Opportunities…
I want to help you through this historic time in the markets…
And show you how to potentially make some of the biggest gains you've ever seen in your life.
78%, 120%, 621% gains or more…
Average investors want an immediate stock pick RIGHT NOW.
Guess how many of them become successful long term?
Few, if any.
What I do is completely different.
I stalk the stocks I want like an alligator until I get the price I want to pay. Then, I share that opportunity with you.
Few investors and speculators have that kind of patience.
But Katusa subscribers get it…
"Only ONE of the stock picks made me $50,000 out of a $10,000 investment. I am looking at my portfolio upswing in disbelief and Joy. Renewal is a no-brainer."
-Ali A.
"Best investing advice for the money. Paid for itself instantly. Keep up the good work"
-Alex K.
"Tell Marin he plays a huge role in my investment account achieving a greater then 7 figure profit in PM's over the last 12 months. I am exceedingly grateful for having signed with KRO!!!
-David J.N.
When you stalk stocks like this, you have the ability to prepare for a panic, correction, or meltdown.
Like when we capture one of the best run pipeline companies at decade low prices and it then soared 138%…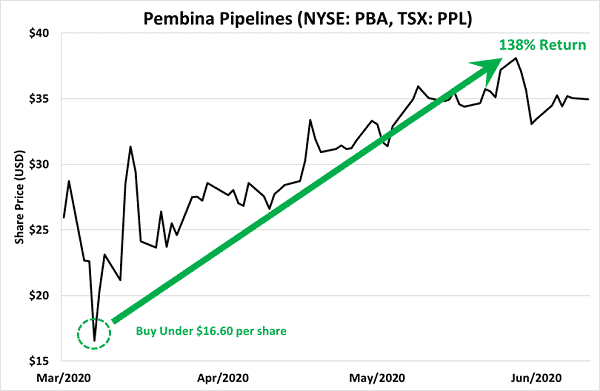 Or how we got one of the best-run energy companies on the planet which then rose 76%…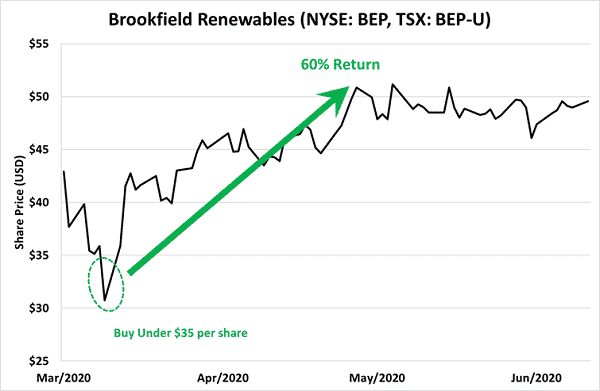 One of the top silver producers skyrocketed nearly triple…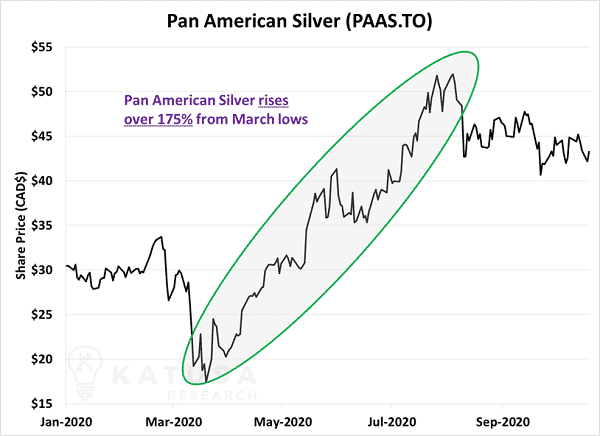 One of my favorite management teams in mining gave investors an opportunity for 664% gains in 6 months…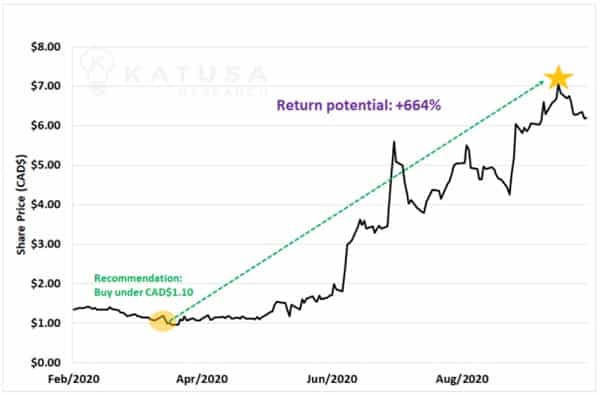 But these types of gains are just the beginning.
If the coming panic into gold erupts like I think it will…
How You Can Make a Killing… Even If You "Missed Out" on the First
Gold Bull Rush
The gold market moves in cycles—from dramatic boom to overnight bust, and eventually back again.
I've been on the inside of the gold and resource market for nearly two decades.
I know all the big players.
So believe me when I tell you:
When you know the right gold stocks to buy at the right price – and which gold stocks to avoid – you're going to end up on the right side of an early-stage bull market that is about to go parabolic.
Take a look at the chart below.
It compares today's gold bull market to past bull markets.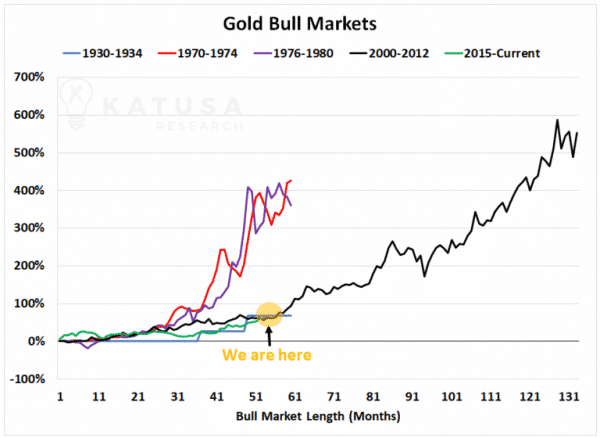 As you can see, we are not only in the early stages… the biggest gains are still in front of us.
That's not even close to the minimum required to qualify for a true "bull market" over the past century.
The smallest gold run-up in the past 90 years was 45 percent—more than twice the current gain.
Every other rally was far, far bigger:
From 1972–1974, the rally yielded a 100 percent gain.
From 1978–1980, another 100 percent gain.
Then from 2007–2010, a 67 percent increase in the price of gold.
When gold is ready to rise, it takes off.
Every single one of the years in the date ranges above saw an increase of more than 20 percent.
That's how you know the multi-year gold rally has barely just begun.
When gold fully breaks out in the final, most important currency… The US Dollar…. LOOK OUT.
It's not unusual to see stocks that have already rocketed higher in our portfolio go up by many multiples.
But when I find a great opportunity, I don't just run into the market and buy at any price.
Instead, I stay patient and wait for great prices.
I "stalk" the stock. I wait for the market to mark it down.
If it takes me weeks or months to accumulate what I want at the price I want, so be it.
That's just how the resource market works.
This is how I've operated in the market for years and years… and how I've built a fortune in sideways and bear markets.
But today, that time is coming to an end.
I believe we only have a short window of time before a correction could happen and a massive gold bull market kicks off within the commodities sector.
Before I show you how to get involved, let me tell you about a major new deal I've been investigating…
For Serious Investors Only:
The Secret Site Visit That Could Be the Biggest Score of My Career
My team and I strive to make Katusa's Resource Opportunities a unique research service.
Unlike a lot of other newsletters out there, I lead the hunt for my subscribers with skin in the game.
I invest at the same price as subscribers.
I spend substantial time and money researching the best deals and trades.
In fact, as you are reading this…
I have completed the site visit of what I believe might be the single largest score of my career.
It has taken nearly 2 decades of experience and 500+ site visits to be able to spot this opportunity.
Even then, it has not been—and will not be—an easy score.
Now, I can't say too much about this deal at the moment.
Nor can I give away any revealing details.
But here's what I can tell you:
Because I had to leave the country while most international borders are still closed, my federal government imposed a 14-day self-quarantine on me when I returned.
During those two weeks, I was prohibited from seeing my family or anyone else.
(To say my wife wasn't thrilled with me would be an understatement.)
But this is the sacrifice I'm willing to make—not just for my portfolio and my family's financial future—but for all of my Katusa subscribers.
To get to where we were going, my group couldn't book a flight with a major airline.
So we booked a large private jet.
No expenses were spared on this trip.
I brought some of the most experienced geologists and engineers in the world.
They are all incredibly experienced, successful hall-of-famers.
Each of them had to sign a confidentiality agreement—me included.
My geological and engineering team agreed with me:
The potential of this opportunity is worth the sacrifice of being away from loved ones for a fourteen-day quarantine upon return.
I've personally spent tens of thousands of dollars in due diligence costs, including pre–site visit analysis, site visit logistics, and post–site visit analysis for this project.
This is all on my personal tab—not shareholders'.
I do this on behalf of every subscriber.
Now, this deal might not go through.
And if it doesn't, I've structured it so that we have zero risk.
But if it does go through as planned…
There will be another round of pre-IPO financing, which, as a new subscriber, you will have the chance to get in on if you're interested.
Again…
I will do my best (there are no guarantees) to get seats at the table for Katusa subscribers in that round.
I have already committed over $20 million dollars to this company.
And if you aren't a subscriber to Katusa's Resource Opportunities, you likely will never hear about this company until it's way too late…
…and every other newsletter is covering it at much higher prices.
Private placements are lucrative investment vehicles.
But just so you know, most of the time, I'm recommending publicly traded stocks that you can buy through any brokerage.
Occasionally, when an incredible private placement deal like this one comes up… with massive potential and upside…
I open up a limited number of new spots to Katusa's Resource Opportunities subscribers.
And let me tell you:
Subscribers absolutely love when they get in the room and in the deal…
"All I can say about you is that you are 1st Class and an outstanding educator! YOU are my investment coach… helping me advance my skills to make wise and informed decisions! Thank you!"
– Roger H.
"Again, [it] amazes me you will take the time out even for the little guys. Truly Admirable!"
– Andrew L.
In fact, when you take advantage of this special 3-day-only Katusa's Resource Opportunities offer…
I'll send you my newest research report detailing one of my favorite trades right now…
The Crisis and Opportunity Trade:
Potential 200-500% Upside From the Energy Market
With the global pandemic still in full swing and getting worse in some places…
And the untold effects of the economic shutdowns yet to come…
The energy market has taken a beating.
Yet…
I can tell you from personal experience:
The best time to buy is when "there's blood in the streets."
In other words, you want to buy assets when they are cheap and unloved… and sell when everyone else piles in.
That's how you make 5 to 10x gains in resource stocks, before the cycle turns to the upside…
Which is exactly where we are right now.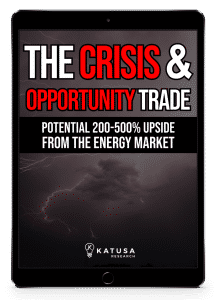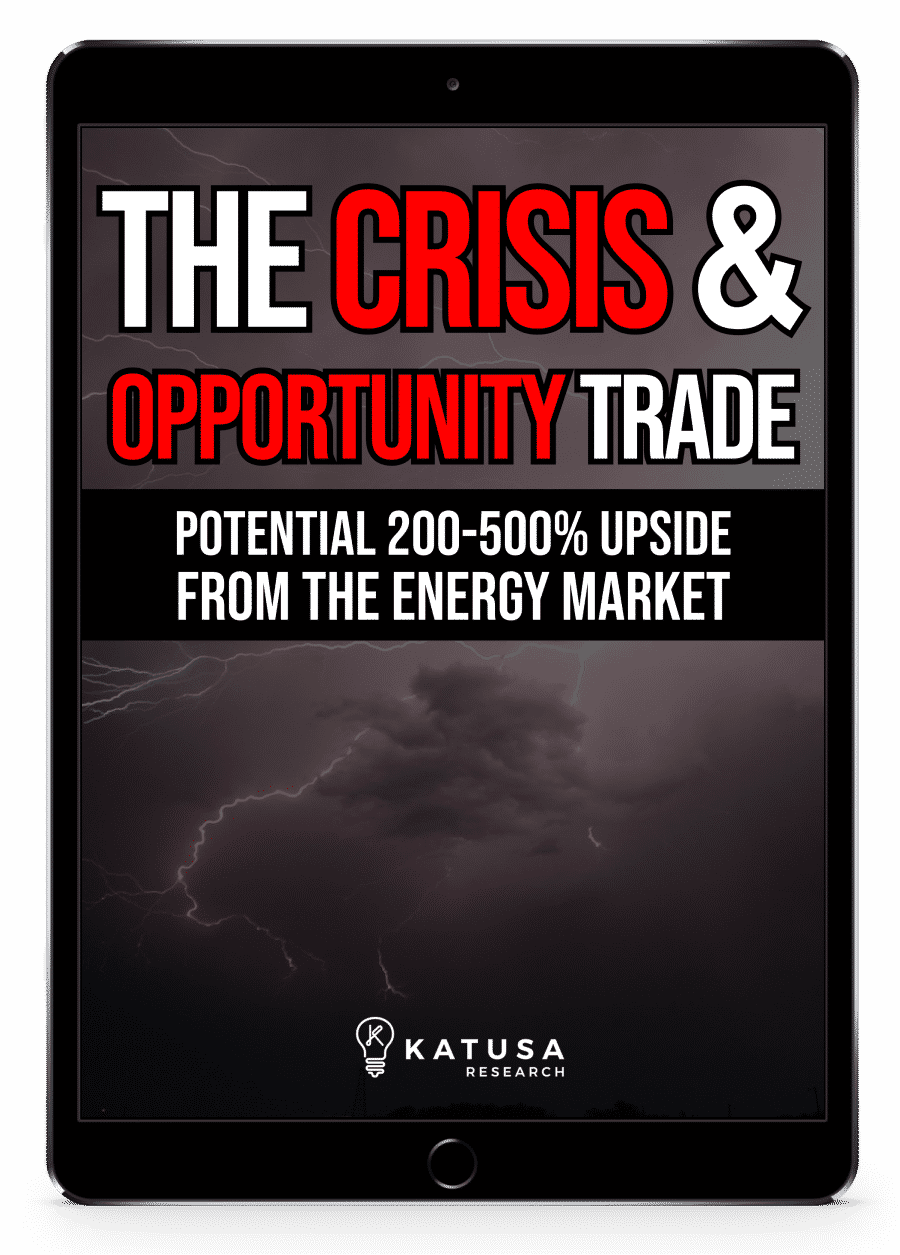 In my brand-new report, called The Crisis and Opportunity Trade, I'll introduce you to my two "best buys" in the energy sector right now.
These are incredibly well-run companies, with stellar management, where I have millions of dollars of my own money invested.
Opportunity #1
Is in a sub-sector at the very beginning of what could be the biggest bull market we may ever see in this resource.
Previous investments in this sector have returned profits bigger than gold.
Bigger than marijuana.
Even bigger than Bitcoin.
Even a fraction of those manias will deliver incredible gains to investors that get in the best of these stocks near the bottom… which I believe we're very close to, or just past.
The best part is: Not one in a million investors knows what's going on right now in this sector.
I do.
In fact, the last time conditions were this good, early investors made absolute fortunes.
11,900%… 8,100%… and 2,233% gains, among others…
Where a small $5,000 investment in each of the three best performers could have made you $1 million dollars.
Opportunity #2
Is inches away from my buy price as I write this.
If we can get a good entry point, the plan is to buy the dip, take a Katusa Free Ride on a strong rebound, and collect a fat dividend at a no-risk cost base.
We found this incredible opportunity thanks to my advanced algorithmic Katusa Dividend Grading System (DGS for short).
Years of experience visiting management teams and operations in this very cyclical market has taught me to use more polished filters.
Just like an elite winemaker separates the finest quality grapes from a vine…
My DGS system separates top-quality dividend-paying companies from the crowd.
We do this by applying a minimum of 5 advanced metrics.
And then we compare these metrics in various energy price environments – up, down, and sideways.
This helps pinpoint good entry points, where you can maximize the money you're making from the dividends – and reap the rewards of future capital gains.
Just like we did recently…
For 130% profits in an energy pipeline company paying juicy dividends, and

60% profits in one of the world's best-run energy conglomerates
So when the system spits out flashing buy signals for energy stocks in any sub-sector – like Opportunity #2 – we get in.
So in this special bonus report for Agora Financial Reserve readers, you'll learn…
The names, ticker symbols, background research, and the price you should pay for my two favorite "crisis and opportunity" energy plays.
And along with my new report, you'll also receive
Links to exclusive DO-NOT-MISS interviews with some of the biggest energy CEOs in the sector… the ones with full knowledge of the markets. These guys are responsible for massive operations, with deep connections, including a former U.S. Secretary of Energy you'll hear from.
One more thing…
As my "thank-you" for taking advantage of this offer and being a loyal Agora Financial Reserve reader, I'll send you something else I haven't yet mentioned…
If you join us today, you'll also receive a special free bonus e-book, The Secrets of Making Money in Gold & Gold Stocks (a $250 value—yours free when you sign up now…)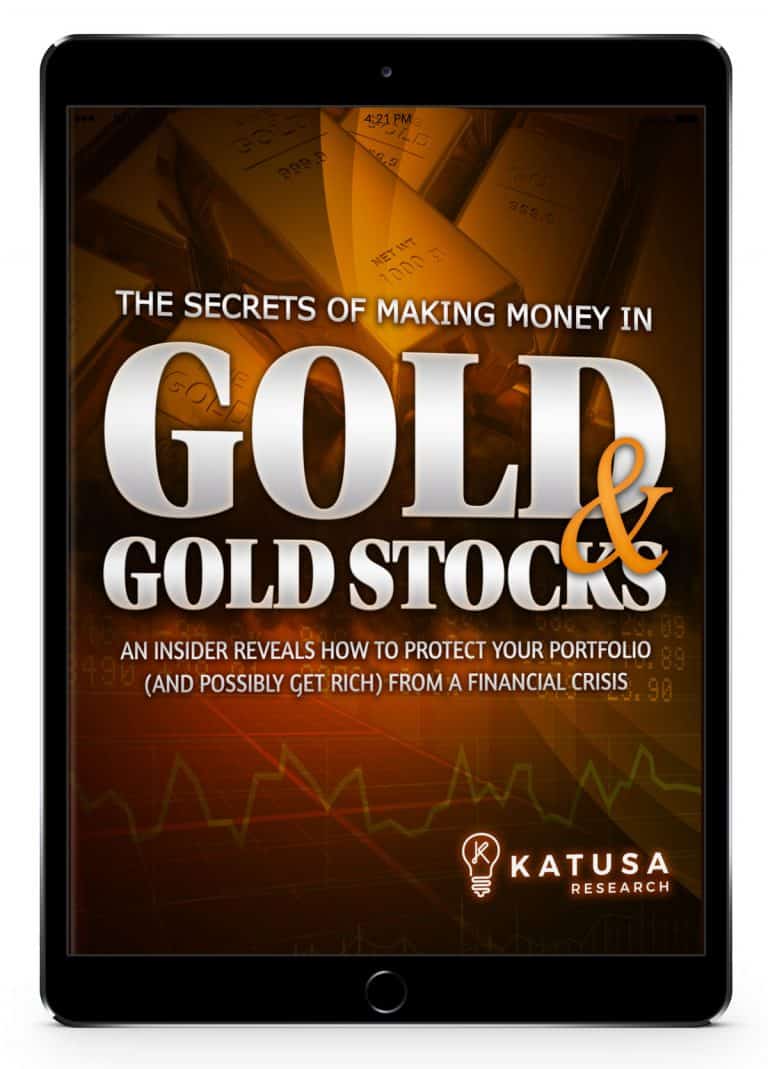 In it, I'll show you…
How gold could help you make 10 times your money during a financial crisis.

How to use other people's money to profit in gold stocks (p.26)
How to identify in advance what small gold companies will be bought out for huge premiums. (p.61)
The 6 essential Katusa's Keys to becoming a successful gold stock investor (p.35)
A revolutionary new gold stock tool that will ensure you ONLY buy high-quality companies (p.46)

And much, much more.
Again, you'll receive your two bonus reports, The Crisis and Opportunity Trade and The Secrets of Making Money in Gold & Gold Stocks with my compliments.
Please note: Due to the sensitive nature of the opportunity I've told you about here, there will be no refunds on this offer. This is only for people who are serious about taking advantage of early-stage resource opportunities like this one.
Remember, you'll be accessing all of our strategy guides… all of our current buy recommendations… and all our special reports.
This work costs us a fortune to produce… and it's extremely valuable.
I'm confident the money you'll make with Katusa's Resource Opportunities will pay for the cost of one year many times over.
As David Galland, co-founder of Everbank and former Director of Casey Research, said of my work:
"Be skeptical of any newsletter writer who specializes in mining stocks. Personally, I only completely trust one: Marin Katusa, who heads his own company, Katusa Research. Marin works insanely hard to find good deals, and he will always tell it like it is."
So if you're interested, I urge you to get in now… and get in at our special price that will likely NEVER be this low again.
ONLY 199 SPOTS Available:
How to Get Started Now
In the past, people have paid me $25,000 per year for my research.
Even at that price, Katusa's Resource Opportunities is a bargain, when you consider that just one of my recommendations could pay for your subscription many times over.
But for the next 3 days ONLY…
And for the first 199 people…
I've directed my team to authorize a specially-discounted offer for you.
What I'm doing for the next few days is a big price slash for my premium research service…
Because markets are moving fast…
And I've helped investors make fortunes putting money to work in panics…
During the market collapse of 2008, I was pounding the pavement to pick up ridiculously cheap shares of a Uranium Producer. They had world class deposits only months away from production. Bold investors that heeded my call made returns of 1,852%.
In the crash of 2008, copper prices were collapsing. I recommended shares of a major Canadian Copper Miner as low as 45 cents. Less than 3 years later, the stock traded over $8 – a 16x gain on your money…
Today, this is your chance to buy great companies at once-in-a-generation prices.
Recently, I alerted subscribers to scoop up shares of an exploration company under 22 cents. Fast forward 3 months and the stock was trading north of 60 cents. That's a 272% gain.
Some folks need years or more to see triple-digit gains in their portfolio.
But we did it again in just 45 days, spotting a fast-moving trend in the oil market for a quick 170% gain.
The past several months have brought us similar big, quick gains we've capitalized on—with much more to come—like:
A change to profit off one of my gold top recommendations soared 321% in 12 months.
An opportunity to make 54% in a gold producer in under 3 months.
A chance to make a 71% profit in a world-class silver company… in less than 90 days.
The fact is, Katusa's Resource Opportunities is one the most widely-followed research services in the business.
My subscriber list is a literal "who's who" of the resource industry.
I'm talking about guys like legendary resource financier Rick Rule, President and CEO of Sprott U.S. Holdings, who said:
"Marin has worked directly with and financed many companies of well-known individuals in the resource industry and has become one of the most trusted and well-connected dealmakers in the junior resource sector. A very bright mind."
That's why my research isn't cheap.
An annual subscription to Katusa's Resource Opportunities is regularly $3,495.
But with this special offer I've arranged for you…
You can get access to a subscription to Katusa's Resource Opportunities for just $1995 per year—$1,500 off the regular price.
But please note: There are no refunds with this offer.
I'm sure you understand…
We spend millions of dollars per year to produce research I can practically guarantee you will not find anywhere else.
I simply can't have "tire-kickers" signing up to get my latest recommendations, then cancel.
My work is designed for serious investors…
So do not sign up unless you're 100% convinced you want to get my best research and ideas on how to position yourself in the gold and resource markets… for the next 12 months.
While there are no refunds, you are under no further obligation.
Each year after this, your subscription will automatically renew at this locked-in price…
But if you're not thrilled with Katusa's Resource Opportunities going forward, just let us know.
You can call our Katusa Research Customer Service team, Monday through Friday, Pacific Time to cancel before your next annual charge.
But I'm confident you'll want to stick around… when you consider how much you could make from these once-in-a-lifetime opportunities alone.
"To be honest you would have a hard time not making your money back in the next year with Katusa Research."
-Ronnie C.
"Subscribe to Katusa Research. Worth every penny if you are going to be in these markets"
-"B.F"
"I also pulled profits, which are enough to pay for my subscription price for about 25 years!"
-Robert A.
"I have paid for my subscription with the gains 3x over."
-Jarrod L.
Beginning immediately, you'll receive: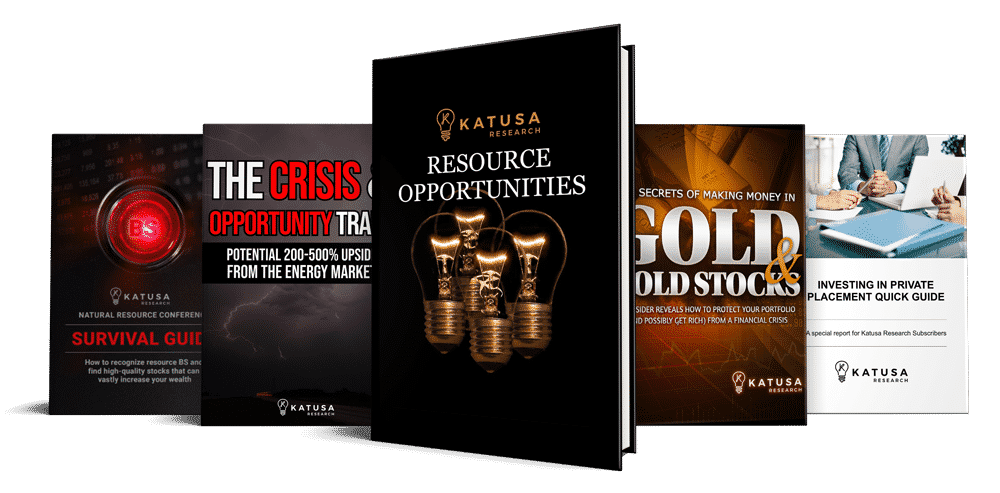 The Monthly Issue

–You'll be sent an electronic issue of Katusa's Resource Opportunities straight to your inbox. 
Here you will see a table and updates on all of Marin's gold stock positions and at what price.
Each issue evaluates my current open positions in the resource markets, future plays, and deep research behind the companies that my subscribers are investing in. 
By the way, Katusa Research is 100% independent.
I accept no outside advertising from any financial, fund, or stock companies to be recommended in Katusa's Resource Opportunities. I act only in the best interest of Katusa Research subscribers. 
And I put millions of dollars of my own money on the line.
I can also say with 100% certainty the level of depth in these issues is unmatched. 
This is why Katusa's Resource Opportunities is considered the premier natural resource newsletter in the game. 
With your subscription, you'll also receive:
New Special Reports – These reports we publish periodically will give you all the details on specific sectors, so you can jump in on quick money-making opportunities. 
Urgent Interim Alerts – Katusa Research subscribers are like alligators waiting in the trenches for the right money-making opportunities. 
Sometimes you sit out and let other people foolishly lose their money…
And sometimes you have to strike fast for quick gains.
We send out regular alerts to take advantage of quick plays and secure the kinds of gains that others would take months—even years— for others. 
We closed a position that returned +170% in less than 45 days…
…And another position in a junior copper/gold stock that gained 270% in just over 2 months.
You could have made the money on your subscription back in just one of these plays, just like long-time Katusa Research subscriber G.T. did: 
"Investing in Marin's ideas is the best decision I ever made. He puts his money where his mouth is. I invested $13,500 in Northern Dynasty. In less than three months, the value of my investment was over $52,000… up 280%."
Subscriber Joel N. said:
"I already made profits that pay for the subscription. In addition to your track record, your videos really set your newsletter above the rest. Getting to know the people behind the companies and see the operations is invaluable."
With your membership, you'll also get:
Access to My Personal Resource Portfolio in Katusa's Resource Opportunities:
And your chance to invest alongside me at the same terms and price. 
These are the exact companies I'm investing and speculating in with millions of dollars of my own money, my family money and my fund.
Access to the Katusa Research Members Area: 
You will also receive 24/7 access to the Katusa's Resource Opportunities website that members can access at anytime, anywhere.
Quality Customer Service: 
If you ever have questions about your membership, simply give one of Katusa Research's friendly Customer Service team members a call during office hours, Pacific Time. They will be happy to walk you through anything relating to your subscription.
When you realize how the profits from just one huge winner can easily pay for your subscription, it's no wonder people are happy to receive our ideas.
As these subscribers recently told us:
"I am a lifetime subscriber. I am already up 240%…"
-Neil C.
"Everything we bought has performed admirably."
-Jamie L.
"I am VERY happy with my subscription to KRO and your excellent analysis and thinking. It was a no brainer in terms of financial and educational value provided"
-S.D.
"On a personal note, I absolutely admire what Marin has built, it's 1 of the most compelling prepositions in the investing world, truly differentiated. I have an investment banking background where I worked for 15+ years for bulge bracket firms. So Marin keep doing what you do, it's incredible"
-Sebastian P.
"Thanks for all of the great work you do for your subscribers, we are lucky to have access to your analysis."
-Brian H.
"It blows me out how much really valuable information you are able to pass on. BRAVO! I suppose we are all waiting in the alligator's lair to pounce!"
-Mandy H.
As Brian Hunt, the former Director of Research at publishing giant Stansberry Research, said of my work:
"I have worked with, met, or read just about every investment guru out there. Marin puts most of them to shame. He's brilliant, he has an incredible work ethic, and, best of all, he's a real investor. He puts his own money on the line."
If you are interested, reserve your spot right away by completing the Order Form below.
To me, this offer is a "no-brainer." 
As soon as you sign up, my team will follow up with you immediately, with instructions on how to access everything I've discussed here.
Just keep in mind…
Only 199 Membership spots are available through this offer. I expect them to go quickly.
Once these spots are taken, members will be notified and this offer will close early.
Just fill out the form below to secure your $1,500 discount to Katusa's Resource Opportunities today.
Regards and stay safe,


Katusa's Resource Opportunities
Take Advantage of Our Special $1,500 Discount Today
One year of Katusa's Resource Opportunities normally costs $3,500.
But through this special limited-time offer, you can receive this research for a full $1,500 off the regular price—just $1995.
Join today and you'll receive:
One year (12 months) of Katusa's Resource Opportunities. Expect a new issue on the first Wednesday of every month, featuring a big new opportunity in junior natural resource stocks from Marin—including his two favorite ways to invest in gold now for maximum gains.
BONUS SPECIAL REPORT #1: The Crisis and Opportunity Trade: Potential 200-500% Upside From the Energy Market
BONUS E-BOOK: The Secrets of Making Money in Gold & Gold Stocks ($250 value—yours free)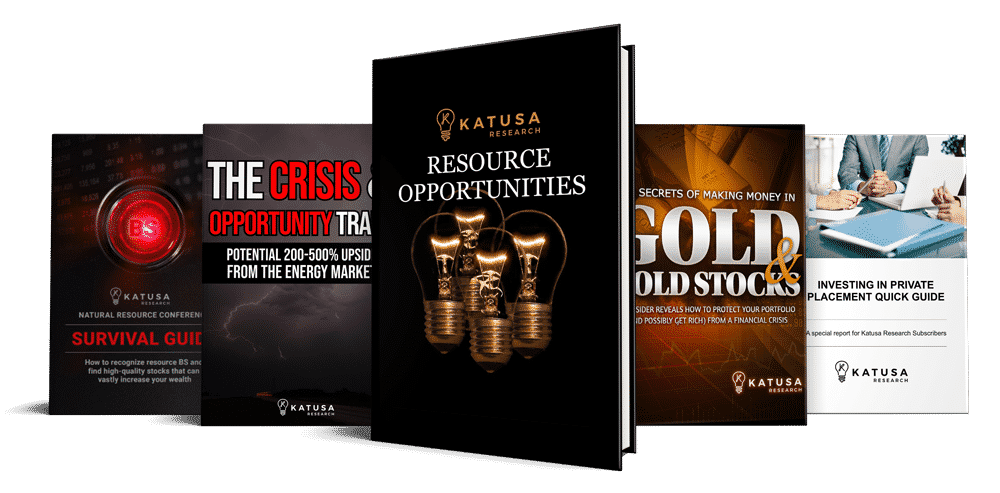 You'll also get urgent email alerts as needed, when Marin spots an opportunity to buy or sell an investment that simply can't wait days or weeks.
NO REFUND POLICY: We will not be offering refunds on this offer. This is for serious readers only.

Please click on Place Order button once and wait. If the page does not respond after 5 minutes, please try again.
Refund Policy:
Due to the sensitive nature of the opportunity I've told you about here, there will be no refunds on this offer.
Auto-Renewal:
When you pay for Katusa's Resource Opportunities with your credit card, you will be billed a membership fee of $1,995. If you wish to keep your membership after the first year, we will automatically bill you $1,995 on your one year anniversary. We will continue to bill you $1,995 after that. You can cancel your subscription at any time before your renewal.
You will receive at least one reminder before being billed for your annual renewal. This discounted membership price is locked in for the life of your membership. It will never rise. If at some point in the future you wish to discontinue your membership, you can email us here or phone us at 778-737-7381 between 8AM to 4PM PST (Monday-Friday) and your membership will stop.
Note: All prices are in USD.
To read our Terms and Conditions disclaimers, click here.