URGENT MARKET ALERT FROM MARIN KATUSA:
A Proven Strategy to Profit on the Right Side of the Biggest Gold Bull Market Of All Time
Hedge fund manager and legendary resource stock financier Marin Katusa reveals why he's betting millions of dollars of his own money on 6 specific gold stocks.
Not one in 10,000 investors know this hidden fact in today's gold market. Below, he reveals how you can make a fortune along with him, starting today.
DO NOT BUY ANOTHER GOLD STOCK UNTIL YOU READ THIS CAREFULLY…
Marin Katusa here.
First, I'd like to thank you for tuning in to my urgent briefing on what I call the "War on Gold."
As we just discussed, right now, we're on the cusp of what may be the biggest gold bull market in the last 50 years.
As a result, what happens next could be the difference between you making the biggest gains you've ever seen in your life…
Or watching your gold investments go to zero during this unprecedented time in the world.
I urge you not to buy another gold stock until you understand what's really going on behind the scenes… and how you can profit from it.
The Importance of Dollar SWAP Lines on Your Gold Investments
It will take more time than most expect for the world economy to recover from the psychological and financial impacts of the pandemic…
But underneath all the coronavirus headlines… behind the scenes of the geopolitical financial world…
Right now, the world needs A LOT more U.S. dollars.
When the virus started spreading internationally, and economies started shutting down…
The U.S. Federal Reserve – now the "lender of last resort" for pretty much the whole world — began providing what's called Dollar SWAP lines to certain U.S. selected and approved governments.
Why?
According to the International Monetary Fund (IMF), the global U.S. dollar shortage could be crippling for many countries – and the world economy.
The SWAP lines provided temporary U.S. Dollar relief to the Central Banks of certain nations — who quickly requested the financial lifelines to alleviate the stress caused by a lack of U.S. Dollar supply.
Here's why this is so important:
Before this pandemic is all over, we will see countries declare bankruptcy…
And we will see nationalization of assets – including gold mines being seized by governments who need real money.
Here is a list of countries where U.S. Federal Reserve SWAP Lines exist (think of them as Lifelines by the Fed):
1. Bank of Canada
2. Bank of England
3. European Central Bank
4. Bank of Japan
5. Swiss National Bank
On March 19, 2020, The U.S. Fed added temporary swap arrangements with:
 6. Reserve Bank of Australia
 7. Banco Central do Brasil
 8. Danmarks Nationalbank (Denmark)
 9. Bank of Korea
10. Banco de Mexico
11. Reserve Bank of New Zealand
12. Norges Bank (Norway)
13. Monetary Authority of Singapore
14. Sveriges Riksbank (Sweden)
On April 7th, The U.S. Fed added temporary swap arrangements with:
15. Bank Indonesia (I highly suspect this was to negate the rising influence of China in the South Sea and prevent China from gaining Indonesia obedience for loans)
Is it just coincidence these are strong allies of the U.S.?
No.
Which countries do not have SWAP lines?
Every other country in the world that's not listed above.
Why am I focusing on this?
Because I believe nations who have existing SWAP lines with the U.S. will not nationalize or seize private gold mines in their countries.
Can you imagine, for example, Mexico receiving hundreds of billions of SWAP dollars from the U.S…. then turning around and seizing an American backed gold mine (that the pension funds own) in their country?
Or Sweden?
Or Canada?
Not going to happen. That would be catastrophic for those countries, all strong U.S. allies.
A lot of mining executives aren't going to like what I have to say. But I don't care – they need to hear the truth.
Because in short…
If you're buying a gold stock with a mining project in any non-SWAP country (I call those nations "-SWAP" line nations read as negative SWAP line nations), you could see your entire investment seized by a desperate government and go to zero.
The Most Important Gold Chart in the World Right Now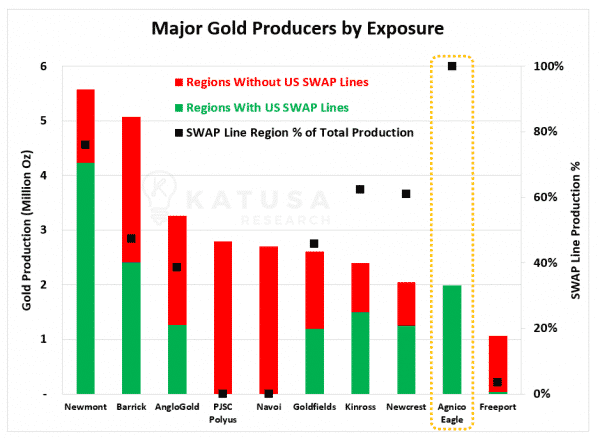 Now, I have nothing against any of these companies. I know all of the people who run them, and they have some great producing gold mines, along with some very smart people…
But you should think twice before buying a company with a lot of red – the ones whose projects are located in '-SWAP' Negative SWAP Line nations.
I'm not recommending you buy Agnico, the one with the full green bar, as it's overvalued right now.
But as you can see, this company's full project portfolio is ALL in +SWAP (positive SWAP) line countries.
Look, we're in a whole new world… with a whole new era of market risks that have never been seen before.
If you want to make a lot of money from the gold bull market, you must understand the difference between +SWAP vs -SWAP nation risks to your portfolio… and know the right gold stocks to buy.
People who don't understand this are going to get destroyed in this New World Order (nWo).
I've been to over 100 countries in my career…
Often to places that many people would never dare to go.
Besides Iraq, I've traveled to Kosovo, Venezuela, Russia, China, Argentina, Colombia, Mexico, Turkey, Nigeria, Kenya, Ethiopia, and dozens of other high-risk countries I would never take my family too.
And I've learned one thing: To make real money in these kinds of small gold stocks, I always apply my "no AK-47" rule.
In other words, I don't invest where people hold AK-47s in the streets.
Think of it this way: if Donald Trump doesn't like you, he sends out a nasty tweet. If your average third-world dictator doesn't like you – where many great gold mining projects are located – he sends out a hit squad or takes everything you own.
Between 2004 and 2010, I literally wore bulletproof vests to get to projects.
I was the main financier in many companies such as a company in Kosovo. Just before Kosovo declared independence, I was meeting with government officials over mining licenses and shots were fired at my hotel by Serbian forces.
I financed another company in the Balkans that was valued at $1 million in 2009. Today, the project is valued at over $1 billion (That is over a 99,900% gain).
I drove across Iraq with former French Foreign Legion soldiers who were our escorts and bodyguards for me to appraise the potential of an oil well. What I discovered in Iraq led to a group of folks making 322% gains.
Back in 2007, I spent a week in the ICU due to bat dung exposure in a very rich large underground mine. I wanted to be the first to see a massive silver deposit in Mexico, so I went underground unprepared (in this case I was right and was the first to publish and finance the +300M ounce silver deposit—and my clients made a killing—but it was really stupid on my part).
I've done some exciting, stupid and dangerous things, and traveled to some crazy places to find the next "Big Score".
But after truly being one of the few in the industry who can say "been there, done that", I learned a major lesson:
In these kinds of gold and resource stocks, you want to make sure you invest in politically stable jurisdictions…
And thanks to what's going on in the world right now, you ONLY want to invest in gold companies with projects in politically stable places (no AK-47)… the ones with U.S. Dollar SWAP lines, which I call +SWAP Line Nations.
Of course, the 6 gold stocks in my current gold portfolio fit the bill…. and could potentially rise thousands of percent in the bull market to come.
In fact, if you're interested… I'll send you the complete list, with their names and ticker symbols… the full details behind each one… and exactly how much you can expect to make.
For Serious Investors Only:
Position Yourself for Big Scores on the Right Side of the "War on Gold"
I've been on the inside of the gold and resource market for nearly two decades.
I know all the big players.
So believe me when I tell you:
When you know the right gold stocks to buy at the right price – and which gold stocks to avoid – you're going to end up on the right side of an early-stage bull market that is about to go parabolic.
Take a look at the chart below.
It compares today's gold bull market to past bull markets.
As you can see, we are not only in the early stages… the biggest gains are still in front of us.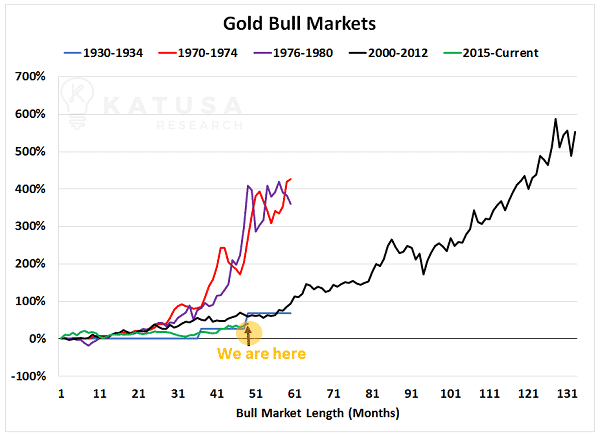 As I also mentioned in my urgent briefing…
Gold was ALREADY in a surging bull market (defined by a 20%+ gain) in all the major currencies – except the U.S. dollar — before the pandemic shut down the world: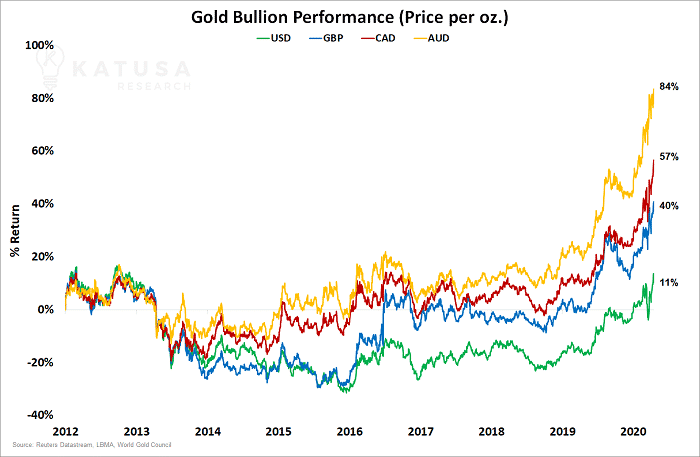 And if you've been following the financial news at all since the pandemic started…
You know that central banks… billionaires… and now average investors are beginning to go all in on gold.
Over the years I've been doing this, I've made millions for myself and my clients, by knowing EXACTLY what is going on in the gold and resource market:
1,901% on Midas Gold
1,480% on Primary Metals
903% on Rare Earth Metals
799% on Lithic Resources
781% on Ventana Gold
498% on North American Tungsten
400% on Dauntless Capital
376% on Bayfield Ventures
And that's precisely why I get letters like these all the time:
"Marin always finds investments I have never heard of, but I've learned to pay attention. He suggested buying Brazil Resources… I made exactly half a million dollars after getting back my original $90,000—more than 500 percent in less than a year." 
–F.F.
"I have made so much money from your service, I can't thank you enough!" 
– Rob B.
"Investing in Marin's ideas is the best decision I ever made. He puts his money where his mouth is. I invested $13,500 in Northern Dynasty. In less than three months, the value of my investment was over $52,000… up 280%."
– G.T.
If you're interested, I'll show you exactly what to do right now.
I can tell you this:
I have never felt more confident about an investment idea than I do about this one. I plan to make a lot of money…
What If Every Gold Stock You Bought
Was a Winner?
When gold did a "stealth" rise to $1,500 (+15%) in 2019, gold stocks in our portfolio went up 50%–309%.
In fact, every single gold stock in our portfolio went higher (7 for 7) in 2019.
Long-time readers of my research service, Katusa's Resource Opportunities, will tell you… I'm not cherry-picking returns.
Here's the performance of all of my gold stock picks in 2019…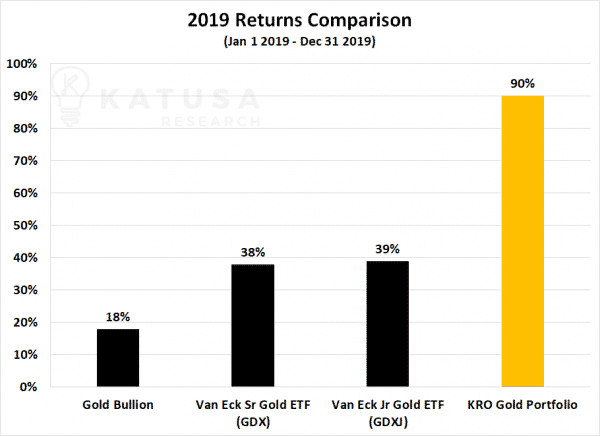 And that's just in the early stages of this gold bull market – before the pandemic hit.
So yes… I believe you need to increase your exposure to the best gold stocks AS SOON AS POSSIBLE.
And if you're interested…
For the next 5 days, I'm offering a discounted membership to Katusa's Resource Opportunities – including my exclusive 6-stock gold portfolio…
These are the companies I'm putting millions of my own money into right now.
How to Prepare – and Profit – from a
Gold Price Shock
I see two scenarios for gold in the near term:
Scenario 1: Gold bounces around the $1,650-1,750 range over the next 12 weeks and consolidates a base for the next leg higher in the spot price of gold. 
Scenario 2: The Gold Price Drops over the next 12 weeks.
Let's go over some facts behind my thinking:
1. Over 200 primary gold and silver mines are currently offline. That is about 5% of global primary gold production. If this virus continues to spread and isn't contained, we could see at least 20% of primary gold production comes offline within the next 90 days.
2. The Canadian Mint is offline. So are many other mints around the world. The US Mint is operating at normal rates. However new products are delayed due to logistical flight issues.
3. 3 of the largest gold refineries in the world were shut down for 2 weeks and are now back online but operating at 50% capacity. The Valcambi, Argor-Heraeus, and PAMP gold refineries in Switzerland refine 48.2 million ounces per year (that's half the world's production).
If there was a time for gold to break out and consolidate above $1,700 – it's at around $1,712 as I write – now is the time. 
Meanwhile, Bank of America just raised its gold target price on April 23:
"Bank of America on Wednesday raised its price target on gold from $2,000 an ounce all the way up to $3,000 — a 50% increase. The prospects of endless monetary expansion from central banks, including the Fed, to limit the economic damage from the COVID-19 pandemic."
If that happens, Katusa Research has a fantastic portfolio of the best gold companies (6 in total) – and we'll be riding the potentially historic gains as far as they will go.
I expect two of these companies to be bought out within 18 months, and we will get an incredible spin out of the best royalties in the business for free… 
And two mid-tier producers in the portfolio will continue to leverage the gold price and rise higher and higher.
But let's say Scenario #1 doesn't happen, and gold breaks down over the next three to four months…
I believe it will be the best gold buying opportunity of the last 12 years. 
According to my data, I think there is a 25% probability gold sells off during that time – which I why I recorded this urgent webinar.
In other words, if we get a gold price shock, you're not going to have much time to get in before it goes parabolic…
Make no mistake:
Even if my gold shock prediction comes true, we are in the early stages of a full-blown, potentially historic bull market.
In the past, people paid $25,000 per year for my research.
Even at that price, Katusa's Resource Opportunities is a bargain, when you consider that just one of my recommendations could pay for your subscription many times over.
But for the next 5 days ONLY…
And only for 199 people…
I've directed my team to authorize a specially-discounted offer for you.
I want you to get in the room and in the deals that I'm looking at.
(In fact, I should have some great news soon if you're interested in private placement deals – there is a big gold placement coming up that I'll share with you).
I've helped investors make fortunes putting money to work in panics…
During the market collapse of 2008, I was pounding the pavement to pick up ridiculously cheap shares of a Uranium Producer. They had world class deposits only months away from production. Bold investors that heeded my call made returns of 1,852%.
In the crash of 2008, copper prices were collapsing. I recommended shares of a major Canadian Copper Miner as low as 45 cents. Less than 3 years later, the stock traded over $8 – a 16x gain on your money…
The next few months could be the last time you can accumulate some of the best gold plays – at the best prices – before the BIG move in the gold bull market
In the last year alone, we've found some huge resource winners.
For example…
Recently, I alerted subscribers to scoop up shares of an exploration company under 22 cents. Fast forward 3 months and the stock was trading north of 60 cents. That's a 272% gain.
Some folks need years or more to see triple-digit gains in their portfolio…
But we did it again in just 45 days, spotting a fast moving trend in the oil market for a quick 170% gain.
The past several months have brought us similar big, quick gains we've capitalized on—with much more to come—like:
A chance to profit from one of my top gold recommendations soared 321% in 12 months.
An opportunity to make 54% in a gold producer in under 3 months.
A chance to make a 71% profit in a world-class silver company… in less than 90 days.
The fact is, Katusa's Resource Opportunities is one the most widely-followed research services in the business.
Our subscriber list is literally a "who's who" of the resource industry.
I'm talking about guys like legendary financier Rick Rule, President and CEO of Sprott U.S. Holdings, who said:
"Marin has worked directly with and financed many companies of well-known individuals in the resource industry and has become one of the most trusted and well-connected dealmakers in the junior resource sector. A very bright mind."
And my good friend Doug Casey—who pays for my research out of his own pocket—had this to say:
"Marin and I have been all around the world together. He's made me tens of millions of dollars.
"When the natural resource market was going DOWN in the last five years, Marin was still doing deals that were giving us doubles and triples, a few ten baggers, and even one 18-bagger.
Doug Casey has stated on multiple occasions publicly,
"Marin Katusa is a genius… the best stock picker in the natural resource field, ever."
That's why my research isn't cheap.
An annual subscription to Katusa's Resource Opportunities is regularly $3,495.
But I don't want you to miss out on this historic gold opportunity…
So with this special offer I've arranged for you…
For the next 5 days, you can get access to a subscription to Katusa's Resource Opportunities for just $1,997 per year—$1,500 off the regular price.
But there's one very important thing you should know.
There are no refunds with this offer.
Do not sign up unless you're 100% convinced you want to get my best research and ideas on how to position yourself in the gold and resource markets… for the next 12 months.
While there are no refunds, you are under no further obligation.
If you're not thrilled with Katusa's Resource Opportunities going forward, just let us know. Each year after, your subscription will automatically renew at that locked-in price…
But you can call our Katusa Research Customer Service team, Monday through Friday, to cancel before your next annual charge.
But we're confident you'll want to stick around… when you consider how much you could make from this incredible situation in the gold markets.
Beginning immediately, you'll receive: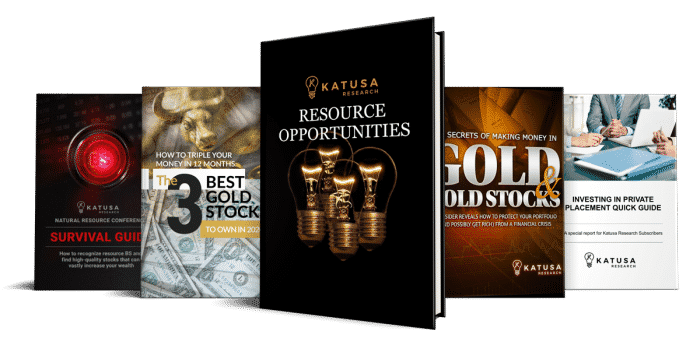 The Monthly Issue – You'll be sent an electronic issue of Katusa's Resource Opportunities straight to your inbox.
Each issue evaluates my current open positions in the resource markets, future plays, and deep research behind the companies that my subscribers are investing in.
By the way, Katusa Research is 100% independent.
I accept no outside advertising from any financial, fund, or stock companies to be recommended in Katusa's Resource Opportunities. I act only in the best interest of Katusa Research subscribers.
And I put millions of dollars of my own money on the line.
I can also say with 100% certainty the level of depth in these issues is unmatched. This is why Katusa's Resource Opportunities is considered the premier natural resource newsletter in the game. 
With your subscription, you'll also receive:
The 3 Best Gold Stocks to Own in 2020 – This report is a very detailed report on my top 3 gold holdings (and a bonus 4th under-the-radar company you've likely never heard of or read about anywhere. The founder just sold his previous gold company for under a billion dollars).
Special Reports – These reports we publish periodically will give you all the details on specific sectors, so you can jump in on quick money-making opportunities.
Interim Alerts – Katusa Research subscribers are like alligators waiting in the trenches for the right money-making opportunities.
Sometimes you sit out and let other people foolishly lose their money…
And sometimes you have to strike fast for quick gains.
We send out regular alerts to take advantage of quick plays and secure the kinds of gains that others would take months—even years— for others.
You could have made the money on your subscription back in just one of these plays, just like long-time Katusa Research subscriber Joel N. did:
"I already made profits that paid for the subscription. In addition to your track record, your videos really set your newsletter above the rest. Getting to know the people behind the companies and see the operations is invaluable."
With your membership, you'll also get:
Access to My Personal Resource Portfolio in Katusa's Resource Opportunities:
And your chance to invest alongside me at the same terms and price.
These are the exact companies I'm investing and speculating in with millions of dollars of my own money, my family money, and my fund.
Access to the Katusa Research Members Area: 
You will also receive 24/7 access to the Katusa's Resource Opportunities website that members can access at anytime, anywhere.
Quality Customer Service: 
If you ever have questions about your membership, simply give one of Katusa Research's friendly Customer Service team members a call during office hours, Pacific Time. They will be happy to walk you through anything relating to your subscription.
When you realize how the profits from just one 170% winner can easily pay for your subscription, it's no wonder people are happy to pay that much for our ideas.
As these Subscribers recently told us:
"I am a lifetime subscriber. I am already up 240%…"
-Neil C.
"Everything we bought has performed admirably."
-Jamie L.
"I am VERY happy with my subscription to KRO and your excellent analysis and thinking. It was a no brainer in terms of financial and educational value provided"
-S.D.
"On a personal note, I absolutely admire what Marin has built, it's 1 of the most compelling prepositions in the investing world, truly differentiated. I have an investment banking background where I worked for 15+ years for bulge bracket firms. So Marin keep doing what you do, it's incredible"
-Sebastian P.
"Thanks for all of the great work you do for your subscribers, we are lucky to have access to your analysis."
-Brian H.
"It blows me out how much really valuable information you are able to pass on. BRAVO! I suppose we are all waiting in the alligator's lair to pounce!"
-Mandy H.
As Brian Hunt, the former Director of Research at publishing giant Stansberry Research, said of my work:
"I have worked with, met, or read just about every investment guru out there. Marin puts most of them to shame. He's brilliant, he has an incredible work ethic, and, best of all, he's a real investor. He puts his own money on the line."
If you are interested, reserve your spot right away by completing the Order Form below.
To me, this offer is a "no-brainer." 
We are looking at an incredible situation where folks who act now could make absolute fortunes… especially because it's still way early in the game…
And I want to make sure you're on the right side of the line being drawn in the War on Gold – and have the chance to profit right along with me.
So just as soon as you sign up, my team will follow up with you immediately, with instructions on how to access everything I've discussed here.
Just keep in mind…
Only 199 Membership spots are available at this price. I expect them to go quickly.
Once these spots are taken, members will be notified, and this offer will close early.
Just fill out the form below to secure your membership to Katusa's Resource Opportunities today.
Regards and stay safe,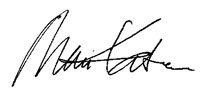 I want to receive Marin Katusa's world-class research and top stock picks… today

*Click the "Place Order" button once and wait. Do not refresh the page.
Refund Policy:
Due to the sensitive nature of the opportunity I've told you about here, there will be no refunds on this offer. 
Note: All Prices are in USD.
Auto-Renewal:
When you pay for Katusa's Resource Opportunities with your credit card, you will be billed a membership fee of $1,997. If you wish to keep your membership after the first year, we will automatically bill you $1,997 on your one year anniversary. We will continue to bill you $1,997 after that. 
You will receive at least one reminder before being billed your maintenance fee. This discounted membership price is locked in for the life of your membership. It will never rise. If at some point in the future you wish to discontinue your membership, email or phone us and your membership will stop.