Doug Casey's "Secret Weapon" to
Resource Riches, Marin Katusa…
The most lucrative "insider" way of multiplying your returns by 200%, 500% and even 1,000%.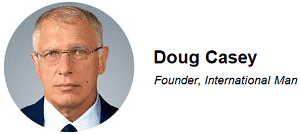 "Marin Katusa is a genius… the best stock picker in the natural resource field, ever."
Doug has arranged a significant discount for you on Katusa's Resource Opportunities—with the best ways to potentially make 1,000%+ gains or more from the coming resource bull market
Dear International Man Reader,
Hi.
Marin Katusa here.
First, I'd like to thank you for tuning in to my urgent International Man interview with my good friend and colleague, Doug Casey.
As we just discussed, right now, we're on the cusp of what may be the biggest bull market in resources in the last 50 years.
That's exactly why I set up this special offer to Katusa's Resource Opportunities for you:
Because there is literally no one better to show you how to make the biggest gains in commodities—especially when the rest of the market is falling apart.
I've been an investor in the natural resources markets for nearly twenty years now. And Doug has been involved for nearly 40 and he's gotten to know just about everybody in this business.
He's met real insiders—the CEOs, financiers, and geologists who make the mining and energy markets tick… the folks who create the biggest, most important deals.
And the reason we work together closely is because Doug Says…
"Of all the people I've met, Marin is the absolute best of them all."
Doug and I have been all around the world together. And we've made tens of millions of dollars as a result.
For example, Here's a picture of Doug Casey, Billionaire Lukas Lundin and I at an oil seep in Kurdistan.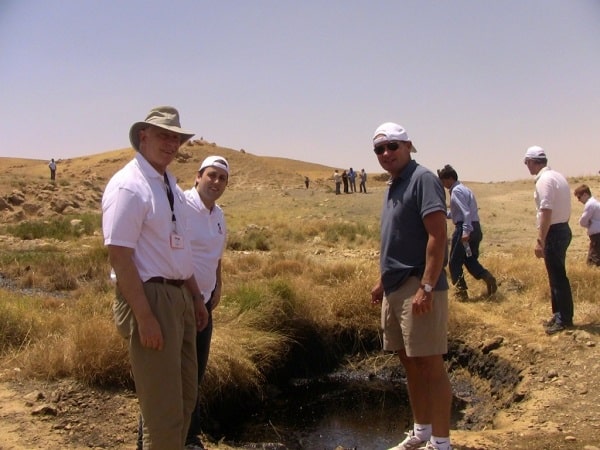 When Doug invests in one of my deals, he almost always makes money. Even in a bear market.
That's why I'm opening up spots in my premium research service for friends of Doug…
And believe me, in the right hands, the ideas you'll find in Katusa's Resource Opportunities are worth a small fortune.
Just how much are Marin Katusa's ideas worth?
Well, according to our records, one Katusa Research subscriber named Frank F. made a killing in under 12 months:
 "I made exactly half a million dollars in less than a year, thanks to you."
Katusa Research subscriber Ante S. said:
"I've never made 1,000% returns before… I made about $25,000 on my initial investment."
And subscriber Li C. said:
"My first monster win with you was 300% ten years ago. I've been making money with you ever since."
In fact…
When the natural resources market was going DOWN the last five years, I was still doing deals that were giving Doug and I doubles and triples, and even a few ten baggers and one 18-bagger.
Nobody else has pulled this off in this past resource bear market…
So just imagine what your portfolio could look like in a resource bull market with Katusa's Resource Opportunities.
Over the years, I've shown my subscribers exclusive opportunities you simply will not hear about anywhere else.
Just take a look at this list:
Copper Mountain Mining Corp.
What I'm telling you is that a small amount of money put into stocks like these—right now—could give you life-changing rewards.
That's why Doug Casey said in the video you just watched, that he subscribes to my research personally, with his own money.
And that's why, as a subscriber to International Man, Doug has arranged something special for you.
In the past, people have paid $25,000 annually
for access to get my best ideas
Katusa's Resource Opportunities is published 12 times a year, and is unlike any other publication in the entire industry.
For example, before Gold was on everyone's radar like it is today…
My subscribers and I took down nearly $100 million in private placement financing for a then-unheard of gold company.
And the stock has been a market darling – earning investors that followed my guidance nearly 40% returns… and rising fast.
Katusa's Resource Opportunities subscribers knew about this deal before anyone else.
And every other newsletter scrambled to the story a long time later.
Recently, I alerted subscribers to be patient like alligators and scoop up shares of Sun Metals under 22 cents. Fast forward 3 months and the stock was trading north of 60 cents. That's a 272% gain!
Some folks need years or more to see triple-digit gains in their portfolio.
But we just did it again in just 45 days, spotting a fast moving trend in the oil market.
Subscribers and I struck for a quick 170% gain.
The past several months have brought us similar big, quick gains—with much more to come—like:
A change to profit off one of my gold top recommendations up 94% year-to-date…
An opportunity to make 54% in a gold company in under 3 months.
A chance to make a 51% profit in a silver company… in less than 90 days.
And many subscribers even enjoyed their first ever 1,000% gain with me.
It's when I recommended a company called Northern Dynasty.
I even stuck my neck out and pounded the table on my investment thesis in front of nearly 700 people at an investment conference.
Here's what happened over the next 12 months as the stock became one of the hottest in the industry…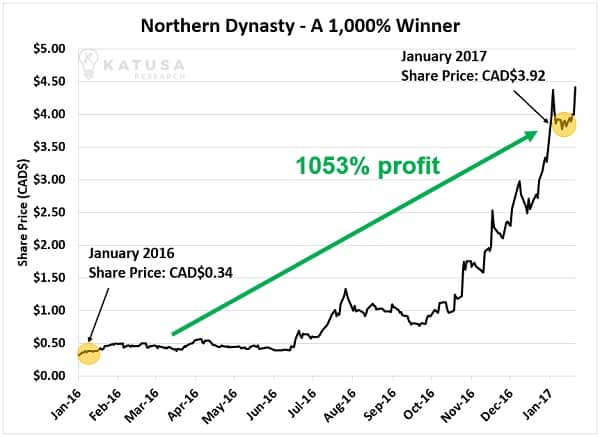 The fact is, my newsletter is one the most-followed and most powerful research services in the business.
The subscriber list is a literal "who's who" of the resource industry.
I'm talking about guys like legendary resource financier Rick Rule, President and CEO of Sprott U.S. Holdings, who said:
"Marin has worked directly with and financed many companies of well-known individuals in the resource industry and has become one of the most trusted and well-connected dealmakers in the junior resource sector. A very bright mind."
Or Nolan Watson, President & CEO of royalty company Sandstorm Gold:
"Marin is a savvy investor. His excellent past returns speak for themselves."
That's why my research isn't cheap.
An annual subscription to Katusa's Resource Opportunities is regularly $3,495.
But with this special offer I've arranged for you…
You can get started today with one of the best research services in the world for just $1,997 for a full year research and actionable ideas.
Receive Marin Katusa's
Resource Opportunities
at a $1,498 Discount
The premier resource newsletter in the world can show you how to make gains like 4,160%… 2,440%… and 1,852% from the imminent commodity bull market
However, due to the extremely proprietary research in Katusa's Resource Opportunities, there are no refunds.
But with this offer, you're under no obligation to continue your subscription after the first year.
This is a special price only for readers of International Man.
And I'm confident you'll see the value in my work right away… Just as Doug continues to see.
So, if you decide to take me up on my recommendation…
Here's Everything You Receive with
Your Katusa Research Subscription

The Monthly Issue – You'll be sent an electronic issue of Katusa's Resource Opportunities straight to your inbox.
Each issue evaluates my current open positions in the resource markets, future plays, and deep research behind the companies that my subscribers are investing in.
By the way, Katusa Research is 100% independent.
I accept no outside advertising from any financial, fund or stock companies to be recommended in Katusa's Resource Opportunities. I act only in the best interest of Katusa Research subscribers.
And i put millions of dollars of my own money on the line.
I can also say with 100% certainty the level of depth in these issues is unmatched. This is why Katusa's Resource Opportunities is considered the premier natural resource newsletter in the game. 
With your subscription, you'll also receive:
Special Reports – These reports we publish periodically will give you all the details on specific sectors, so you can jump in on quick money-making opportunities.
Interim Alerts – Katusa Research subscribers are like alligators waiting in the trenches for the right money-making opportunities.
Sometimes you sit out and let other people foolishly lose their money…
And sometimes you have to strike fast for quick gains.
We send out regular alerts to take advantage of quick plays and secure the kinds of gains that others would take months—even years— for others.
We just closed a position that returned +170% in less than 45 days…
…And another position in a junior copper/gold stock that gained 270% in just over 2 months.
You could have made the money on your subscription back in just one of these plays, just like long-time Katusa Research subscriber G.T. did:
"Investing in Marin's ideas is the best decision I ever made. He puts his money where his mouth is. I invested $13,500 in Northern Dynasty. In less than three months, the value of my investment was over $52,000… up 280%."
Subscriber Joel N. said:
"I already made profits that pay for the subscription. In addition to your track record, your videos really set your newsletter above the rest. Getting to know the people behind the companies and see the operations is invaluable."
With your membership, you'll also get:
Access to My Personal Resource Portfolio in Katusa's Resource Opportunities:
And your chance to invest alongside me at the same terms and price.
These are the exact companies I'm investing and speculating in with millions of dollars of my own money, my family money and my fund.
Access to the Katusa Research Members Area: 
You will also receive 24/7 access to the Katusa's Resource Opportunities website that members can access at anytime, anywhere.
Quality Customer Service: 
If you ever have questions about your membership, simply give one of Katusa Research's friendly Customer Service team members a call during office hours, Pacific Time. They will be happy to walk you through anything relating to your subscription.
To sum up…
I'm confident the money you'll make with my ideas over the next year will pay for the cost of your subscription many times over.
So if you're interested, I urge you to get in now—I agreed to keep this offer open for you for a limited time.
As Brian Hunt, the former Director of Research at publishing giant Stansberry Research, said of my work:
"I have worked with, met, or read just about every investment guru out there. Marin puts most of them to shame. He's brilliant, he has an incredible work ethic, and, best of all, he's a real investor. He puts his own money on the line."
If you are interested, reserve your spot right away by completing the Order Form below.
To me, this offer is a "no-brainer."
As soon as you sign up, my team will follow up with you immediately, with instructions on how to access everything I've discussed here.
Just remember, this deal will close soon, without notice.
I think you're going to be really happy with the results you'll see from Katusa's Resource Opportunities.
Best,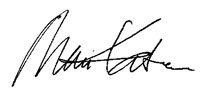 Marin Katusa, Katusa Research
Doug Casey's International Man 
Refund Policy:
Due to the sensitive nature of the opportunity I've told you about here, there will be no refunds on this offer. 
Note: All Prices are in USD. Only VISA and Mastercard are accepted credit cards.
PAYING BY AMEX?
If you need any assistance or wish to purchase with an AMEX card, please call our wonderful Katusa Concierge at 778-737-7381 from Monday to Friday 8am – 4pm PDT
Auto-Renewal:
When you pay for Katusa's Resource Opportunities with your credit card, you will be billed a membership fee of $1,997. If you wish to keep your membership after the first year, we will automatically bill you $1,997 on your one year anniversary. We will continue to bill you $1,997 after that. 
You will receive at least one reminder before being billed your maintenance fee. This discounted membership price is locked in for the life of your membership. It will never rise. If at some point in the future you wish to discontinue your membership, email or phone us and your membership will stop.